I can't believe that we've had Ralfie for a year – sometimes it feels like we just brought him home. Most of the time, though, I can't remember a world where I'd open a can of tuna without his super-puppy-hearing waking him up from a snooze in hopes I'll share a flake.
I'm in love. I love him more than he loves tuna.
It's been brought to my attention, that I started posting about Ralf without much explanation about how he came to be our furchild. So, in honour of Ralfie's "Gotcha Day" (yes, that's a thing in pet-parenthood), I'd like to share my experience with everyone.
January 2, 2018
We were coming to the end of a beautiful New Year's trip to Cabo with friends, and popped in for some pre-dinner cocktails at Acre Baja – a local boutique hotel, restaurant, event venue, and… animal rescue. The latter being the passion project of the owner's daughter and hotel manager, Rachael.
While enjoying a smokin' negroni, our friend asked Rachael if she had any puppies on site. To which Rachael replied, "Yes, actually we got a litter of six a few days ago. One is in quarantine, but you can visit the rest!" I perked right up, shot Alex one of those OMG-can-we-get-a-puppy faces, and was quickly met with a, "Don't go back there." I didn't listen.
Side note here: It's not that Alex didn't want a dog – quite the contrary. He very much wanted a dog but we were currently homeless and about to live in limbo. He's usually the reasonable one. (Shocking.)
Rachael led two girlfriends and me down to the dark backyard of the property, where she's rigged up kennels for baby goats, puppies, and now donkeys, peacocks, and kittens. Inside a little shelter with a heating lamp were five precious little pups with bloated bellies full of worms. At the bottom of the pile, snoozing on his back was the only black one being used as a pillow for a few others. Alex hates this part of the story, but I was sold on him because he reminded me of how Alex sleeps. (Sorry babe.)
Something in me melted.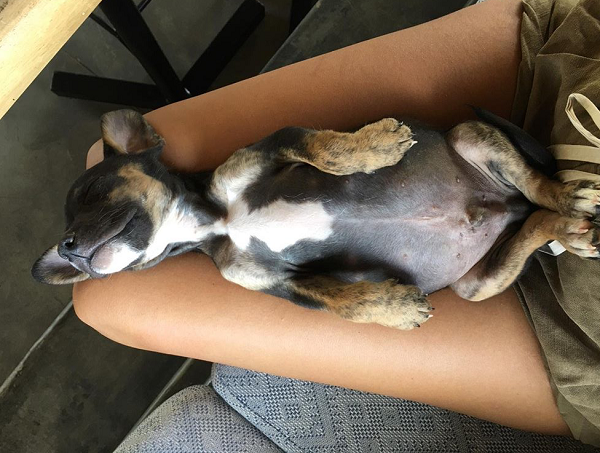 Rachael handed him to me, and I was changed forever. Sure, holding a puppy is always dear. But, even as the others of the litter were passed into my arms they weren't my puppy. I brought him up to Alex who rolled his eyes as if to say, "what are you getting us into?" By now, Ralfie was trembling a little with the noisy change of scenery, but the minute he was in Alex's arms he stopped shaking, put his paws on Alex's chest to stretch back and get a good look in the face, yawned, and snuggled right in feeling safe.
Something in Alex melted.
February 6, 2018
I don't yet know what it's like to wait for the arrival of a baby – but, God help me.
Ralf wasn't healthy enough to travel back with us at 5 weeks old, and needed to stay with his litter until he'd gotten rid of the worms and gained some strength and weight.
We couldn't find a chaperone to fly him back in the cabin, but after a few phone calls with West Jet's shipping department we were confident they'd take good care of our boy. (Honestly, the one woman who gave us her direct line was incredibly organized, helpful, and reassuring. 10/10)
The day he flew to us in the plane's underbelly was a long one.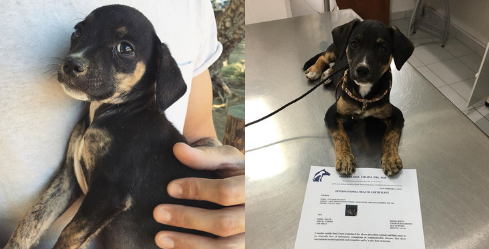 It was a few hours after his flight landed that he'd finally cleared customs and his crate was brought out to us. We were only a couple of steps outside of the building when we untaped the door and pulled a nervous (but well!) little Ralfie out into the rain. We assumed he'd be thirsty, but that night we learned how food-motivated this little critter was. He ate double his daily serving suggestion that night. We also learned that rain isn't his favourite… sorry, for bringing you to Vancouver, pal.
Every single day, I'm grateful for our boy. He's sweet, playful, and hilarious. The timing was wrong, the circumstances were challenging: but he's undeniably meant for us.
There are no words to thank you, Rachael.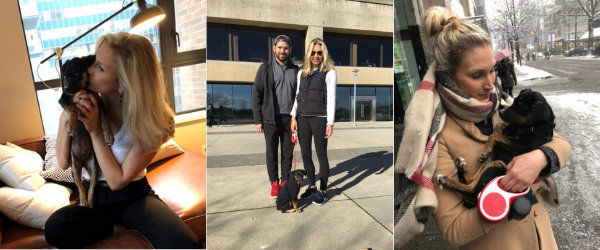 Watch the video to learn more about Rachael's mission. To make a donation, you can go to the Acre Dogs Go Fund Me page. And follow along on Instagram @acredogs.