I get a ton of questions on Instagram about our pup, Ralfie, and the toys, treats, and other products we love for him. I've built out an Amazon store with all of my suggestions here: Ralf's picks, but read below if you're looking for something specific or why we like it.
Toys and brain teasers
Just like kids, dogs use toys as a part of their development and to keep them occupied (read: out of trouble). Truth be told, almost all of our purchases in this category were guided by Carey at Carey Trains Me. She's been Ralfie's trainer since day one and saved our sanity when he went through a major chewing phase.
Some dogs chew because they're anxious, but not Ralfie. He was bored and thought my shoes and decorative pillows were pretty cool. Ugh. Solution? Keep him entertained, engaged, and challenged while we're out.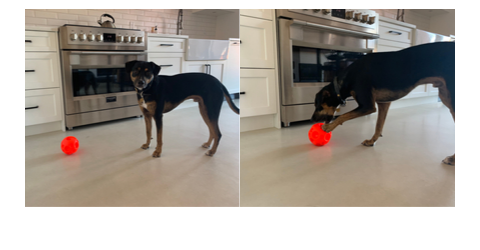 A treat ball and a wobble Kong are our favourites to leave him home alone with. They're safe to use without supervision, you can put dry treats in them so you don't come home to a melted peanut butter mess, and they're highly durable for our little psycho. Any chew toys with nubs also keep him occupied while he's pulling a Kevin McAllister, like this squeaky guy that responds to his roughhousing, or flavoured bones like this or like this. If your floofer has a PhD in destruction like Ralf, be extra careful their toys are non-toxic in case they ingest pieces.
You can never go wrong with toys made by Kong — they're more expensive, but ours are still like-new and we bought them almost two years ago. They're dishwasher safe, easy to freeze broth or peanut butter in, and always one of his favourites.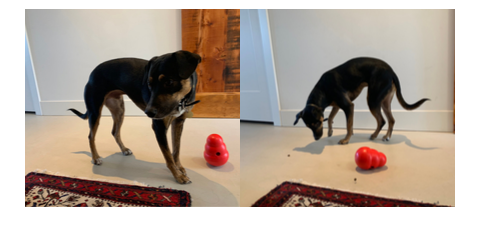 For days at home, he's a big fan of his snuffle mat. He only uses it when we're home because of his destructive ways, but it keeps him busy on a rainy day when I don't feel like braving the park more than I have to.
Keeping the house clean
When we did our reno, we opted for soft, gorgeous, oatmeal coloured concrete floors. They are stunning, but stupid when you have a black dog. (And Greek partner…) My parents got us the Dyson V10 Animal for our housewarming gift and we've more than gotten our money's worth. That thing is a BEAST. They also make a handheld version and it's a dream for tight spots or taking down to the car.
With Ralf sniffing around on the floor, we've cut out most of our chemical products. The Method line of products are great for floors, countertops, and our glass coffee table. Their fragrances are really light and refreshing too.
Keeping Ralfie clean
Luckily, we've never had to spend on the groomers and have managed to do all the puppy-maintenance ourselves. I like the natural Burt's Bees products for his coat once a week, and we maintain his paws and other trouble spots whenever he comes inside with paw wipes.
Clipping his nails we use the JW Deluxe Nail Trimmer.
Park necessities
Amazon is by far the cheapest place to buy poop bags, and you can still find eco-friendly ones that are compostable. Keeping him hydrated on longer hikes we use this water bottle that has a drinking dish, and you can find this pop-up version in both of our cars, dangling from his leashes, and in other random places he may need a small drink but I can just pour him a splash from mine.
Sleeping
I can't say enough good things about the Casper dog bed. Ralf is the snuggliest creature, which is great when you're watching a movie but not when you want to actually sleep. The Casper bed has kept him out of my personal space and actually sleeping. We tried numerous dog beds before and he was waking me up every hour. Like the Dyson, or the Kong toys, this is an expense I wish we just paid earlier, instead of going through multiple other cheap versions.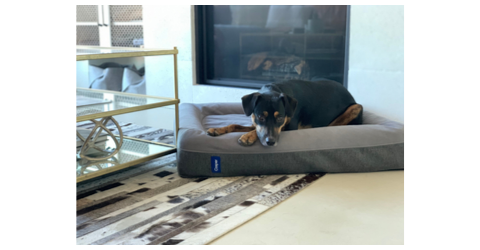 Ralfie's eats
As for food, Ralfie's on a raw diet so we get that at a specialty store here in Vancouver — I recommend a bowl that suctions to the floor if your dog doesn't have royal table manners. We do grab treats from Amazon when the ingredients are just meat and vegetables. You can find those in my Ralf picks Amazon Store with other ideas across all categories.