Back in 1984 Eric Karls started the Canadian brand Almost Heaven. In 1994, he brought his wife, Lani, on board as the Creative Director of the accessory line and quickly the name changed to Mac & Jac after their daughters Mackenzie and Jacqueline. The two expanded into clothing with the conception of Kensie… and the rest is history.
While purchased by Liz Claiborne in 2006, and then sold to GIII in 2011, the heart of the company is still a family business with both daughters having joined the team in their parents' footsteps.
I swung by their Vancouver based head office to check out where the magic happens and to pick the brain of Kensie Studio's Creative Director and dear friend, the Jac of Mac & Jac, Jacqui Karls.
While the esthetic of Kensie is a tad conservative, Jacqui's personal style is slightly more, hmm, what's the word? Eclectic? Don't go thinking this girl just stepped onto the carved path, Jacqui is the girl whose cocktail parties turn into dress-up evenings of multi-coloured fur coats other novelty fashion items she aggregates on eBay and the likes.
Fashion is in her DNA. There's no denying it.
Here's a little inspo for broads out there looking to leave their own mark on the fashion world.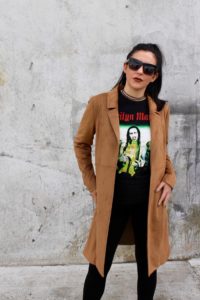 Do you remember when you first took an interest in fashion?
For as long as I can remember. I've always wanted to dress differently and chase early trends. The movie Clueless and then later on Electric Circus were such huge influences for me. I used to drag my mom to Le Chateau all the time at Pacific Center and try to convince her I fit into the big girls' clothes.
I know a lot of women can remember when they first expressed their own personal style; I'm assuming there's a very Jacqui Karls outfit that stands out from your childhood. What was it?
I remember an outfit I wore to school one day in grade 3 that made quite a splash. It was a black crushed velvet catsuit with massive bell-bottoms at the hem of the pants and the sleeve cuffs, bejeweled in multi color crystals. I remember my old, grumpy teacher Mrs. West's jaw dropping when I walked into class. Looking back it was a really silly and flashy look to be wearing in the 3rd grade but I guess I've never been shy when it comes to style.
I've recently seen you in a catsuit or two, but unfortunately no crushed velvet! How would you describe your current style?
I'm always going through phases with my style. If you scrolled through my tagged photos [on Facebook] you might think you're looking at five different people as you go through the years. At the end of the day I'm always looking to stand out and be the first person on top of a trend. I buy a lot of my clothes on eBay and from thrift stores, and while I like to dress sexy when I'm out, comfort trumps all. I've always had so much fun with fashion and try not to take it too seriously, if an outfit I wear can make someone laugh, that's great.
How does that help or hinder your work at Kensie?
I went through a style phase a few years back that was highly influenced by a very niche crowd on Tumblr. I literally had bright green crownrows, a chain connected from a nose piercing to my ear, a massive collection of vintage vinyl rave wear from the nineties, and the same exact platforms the Spice Girls wore. At the time I was designing dresses for Kensie meant to sit in the Macy's dress department. That was a challenge. Any influence from my personal style that I put into the collection was obvious to the buyers, and each season I had to reign in my creativity and design for a more commercial consumer.
My personal style lately is a lot more feminine and contemporary, and less about shock factor – plus, I've always been able to appreciate personal style and clothing I might not actually want for myself. With Studio I feel like I can combine and separate my personal style to attract a wider audience.
Did you always want to work for your parents' brands?
I loved going to the office as a kid. My sister and I would play in the warehouse and the design room for hours while our parents worked. I looked up to all the pretty girls that worked for the company and knew, from pretty much day one, I wanted to be exactly like those girls.
When did you officially start working with your parents and become one of those pretty girls you'd looked up to?
I started working for the company during the summers while I was in high school part time in the warehouse. Then part time while I was in fashion marketing school doing customer service and full time in 2006 doing sales and account management.
Was there ever a time you didn't work with your family?
The only time I've ever worked for another company was in 2007 after Liz Claiborne bought us. At the time they also owned Lucky Brand Jeans, so I was given a one year work visa to be a Junior Merchandiser for their accessory department in New York City. I absolutely loved working for Lucky and learned a ton. The faster pace of the fashion industry in New York was a good fit for me. I hardly knew anyone in the city so my job became my life. My team was small, and a neat melting pot of Americans. Living in Manhattan at 21 years old was definitely a rollercoaster!
Family in business can be a toughy, how do you find it?
Like anything, it has its ups and downs, but the good certainly outweighs the bad. The fashion industry in Vancouver is small, and I've had the opportunity to test my hand at just about every facet of the business which is pretty uncommon for your average fashion girl. After working in: Sales, Merchandising, Retail, Design, Buying, Ecommerce, and Marketing, I really got a good handle on what my strengths are and how I can channel that into my career. Beyond that my parents and I are really close, I love spending time with them inside and outside of work.
As you've mentioned you like to be the first to jump on trends, what's the in-the-moment trend you're wearing now?
I dress ultra casual in the summer; the heels take a bit of a breather. I try to be outside as much as possible so anything that goes with jean cutoffs and sneakers. Some of my favorite trends for summer are: suede baseball hats, reflective sunglasses, vintage rap concert tees, Levis jean jackets, chokers, and bodysuits.
AW16 is just around the corner, what are you personally eyeing up for the most fashionable season of the year?
Last fall I was obsessed with neutrals: Nudes, Taupes, Khakis, Mauves, Browns, shades of grey. I was coming out of being a pretty colourful dresser, so I'd like to keep building on a more neutral wardrobe. I'd love to get my hands on a great suede trench and some variations of catsuits in interesting colors and silhouettes. Also, I want to add to my thigh high boot collection.
Your career seems fairly set-in-stone, how do you keep yourself moving forward? What's the next challenge?
Producing photo shoots has been hands down the most creative aspect of my career in recent years. I love building a team of creatives and carrying out a concept, but being on set is few and far between. I would love to build my portfolio and do some freelance photo production. For the more immediate future, my goals are to grow the current business I have with Kensie Studio and attract some great online retailers. Kensie does so much of their business with brick and mortar, I'd like the Studio division to emulate that fast fashion girls are searching for online so we can have a bigger presence on the web, as well as in stores.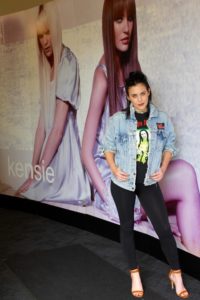 IG: @jacquithealien