My obsession with Fresh Prep started a few months ago…
Little did I know, one of the co-founders was Becky Brauer – another woman who silenced her inner critic and took the leap. "Leaving my comfortable corporate job was very intimidating. While I've always had an ambitious nature and a desire to make a positive societal contribution, I was also plagued with self-doubt and anxiety. Mix in some cognitive dissonance between my beliefs and my trajectory at the time, and for me it was the worst possible combination. Cue a Facebook post by one of my high school friends, and now fellow co-founders Husein about a concept and future plans to launch Fresh Prep off the ground with co-founder Dhruv. I reached out to him, and the rest is history. It felt very serendipitous. Being an entrepreneur is challenging, but I go to work each day feeling motivated, fulfilled, accomplished, grateful, and inspired. The best decision I've made in my life thus far was listening to my inner voice, following my instincts, and jumping into this career with both feet. I've learned more in the past 3 years than I did in my entire professional career up to that point. The most valuable and empowering of those lessons so far is that nothing makes me extraordinary or unlike any other woman. It's simply the decision to say yes that makes all the difference."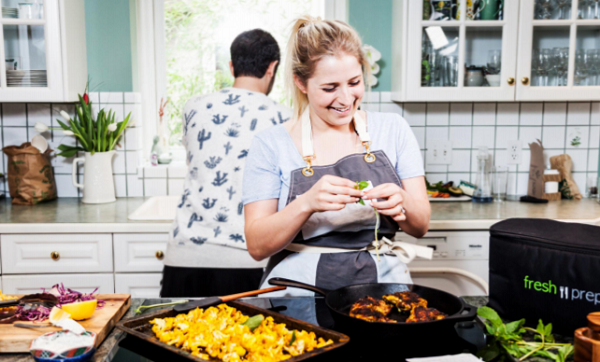 Heck freakin' yes, Becky. Talk about coming a long way since their days of cooking up healthy eats in a juicery in Kitsilano back in 2014.
… Ok, back to my obsession…
While I originally subscribed to Fresh Prep for the obvious reason of convenience, that's not what made me into a full-blown, won't-shut-up-about-it advocate anywhere people would listen. While arriving home to a cooler bag full of fresh food after a commute is pretty awesome, here's what made me a devote Fresh Prep'er.
I get what I want
By now you know I'm allergic to dairy and eggs. During your account setup with Fresh Prep you're prompted to denote dietary restrictions. You can choose vegan, dairy-free, gluten-free, and a few others.
Based on your settings, Fresh Prep chooses meals for you but you have complete control to change them – necessary for families with a picky LO at home. Often, they'll populate the vegan option for my allergies, so either I swap it or add in prawns or chicken stretching it to another meal the next day. Ingredients listings are always included, even on spice mixes if you have an issue with garlic, or another seasoning.
Even though they don't have the option for egg-free, I can go into each recipe before delivery to read through ingredients – something a person with restrictions is extremely used to. Sometimes it's just a dash of mayo which I'll leave out of mine, or sometimes it's a pivotal ingredient like egg noodles and I can swap the whole meal for a different one. Sometimes I'll choose a meal with dairy in it, knowing I can leave the cheese off my tacos.
All the new things
I love cooking, something I credit both of my parents with. However, being short on time, trying to eat healthy and watching my budget often gets me stuck in a rut. In the past, I'd tried to recreate delicious meals I'd eaten in a restaurant – beef curries, tagines, miso glazed fish – and by the time I bought seven little jars of pastes and masalas, not only had I broken the bank on ingredients that would expire on some back shelf, it was a ton of work.
Tell me I'm not alone in this?
This is why I'm obsessed with Fresh Prep: I've cooked and eaten some amazing things I never would have, let alone on a Tuesday night.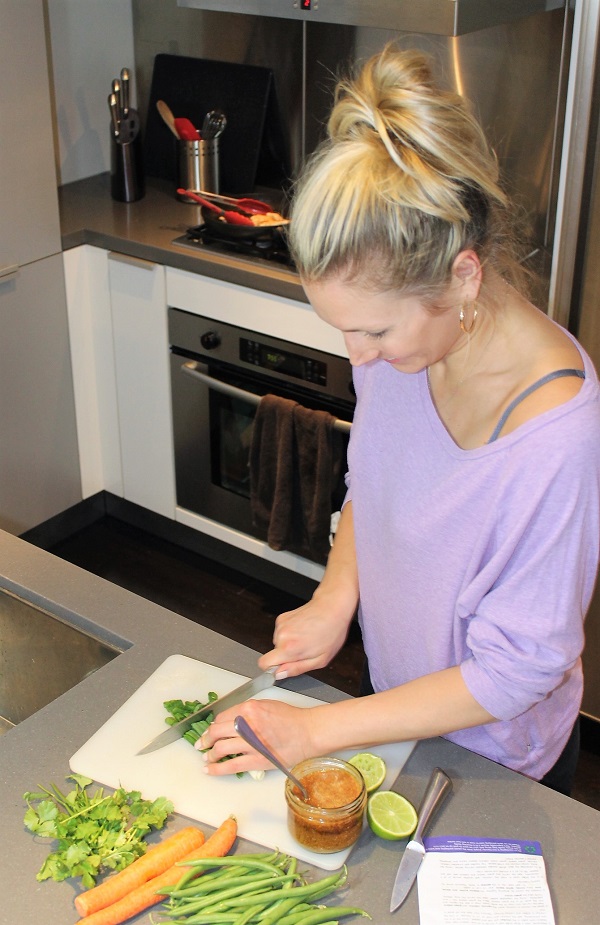 Personalization
I get my deliveries how I want them. They arrive within a four hour window when I'm not home, leave the cooler full of goodies, and collect last week's empty cooler.
If we're busy one week, I click "Skip this delivery". That's it.
If I want to change my delivery time, no problem.
If we'll be home a lot I can add a night, and I can add servings for guests who're coming over. Easy peezy.
Subscriptions: no surprises
Yeah, I get it, millennials like subscriptions. Why wouldn't we? We're busy, we're social, we're fit, we're conscious of waste, we're thrifty. We can manage all of our expectations without a lot of effort by having dog food, tampons and razors arrive to our doors.
There's no surprises with Fresh Prep each week. I know how much I'll spend, I know the quality of the food, I know what recipes I'm receiving, I know how and when I'll get it.
Steve Jobs always wore a black turtleneck to eliminate one decision from his daily routine. Fresh Prep is my black turtleneck.
Simple: even he can do it
Here's the kicker: while my boyfriend loves food, he's never been much of a cook. But, Fresh Prep is so straightforward he's got it covered with the confidence of a young Gordon Ramsay. (Ok, maybe I'm giving him a wee bit too much credit.) Truthfully, there's nothing better than coming home from a long day and having dinner ready.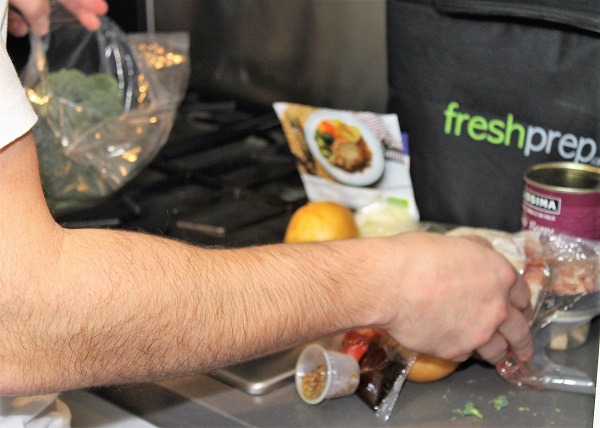 You might also like