You might think we're crazy for cooking homemade dog food for Ralfie every few weeks, but it's been such a money saver. More importantly, his body hasn't rejected it like it started to do with the raw diet he was on.
I'm a major label reader because I have food allergies. The more you read labels, the more you realize how many crappy, cheap fillers are put into packaged foods — it's nasty. Dog food is no different. After a ton of research, we put Ralf on a raw diet, which agreed with him at first but then started causing him problems including vomiting blood.
Yeah, not cool.
A raw diet is extremely nutrient rich and "natural" for dogs, however, Ralf had worms as a puppy and it was too much on his sensitive system. We found a few cooked, organic suppliers but the cost for our little 16kg was around $12 a day. No thanks.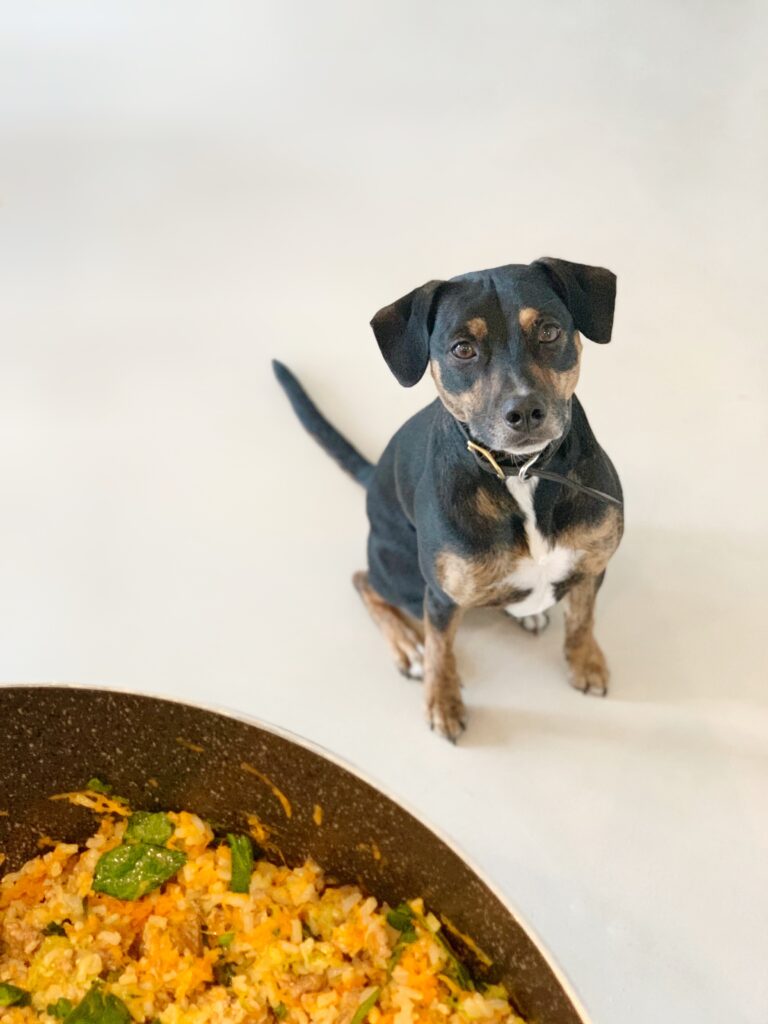 Recipe
We triple the recipe in a giant pot so we don't have to cook it so often. Then just freeze daily portions of it that we pull out as we need them. (Ralf weighs 16kg (36 lbs) and eats 2 1/4 cups of the mixture daily.)
Ingredients:
1 1/2 cups of uncooked brown rice
2 tbsp of coconut oil
2 kg of ground meat (we use 1kg of beef and 1kg of turkey)
2 cups of spinach, chopped
2 carrots, shredded
1 large zucchini, shredded
1/2 cup of frozen peas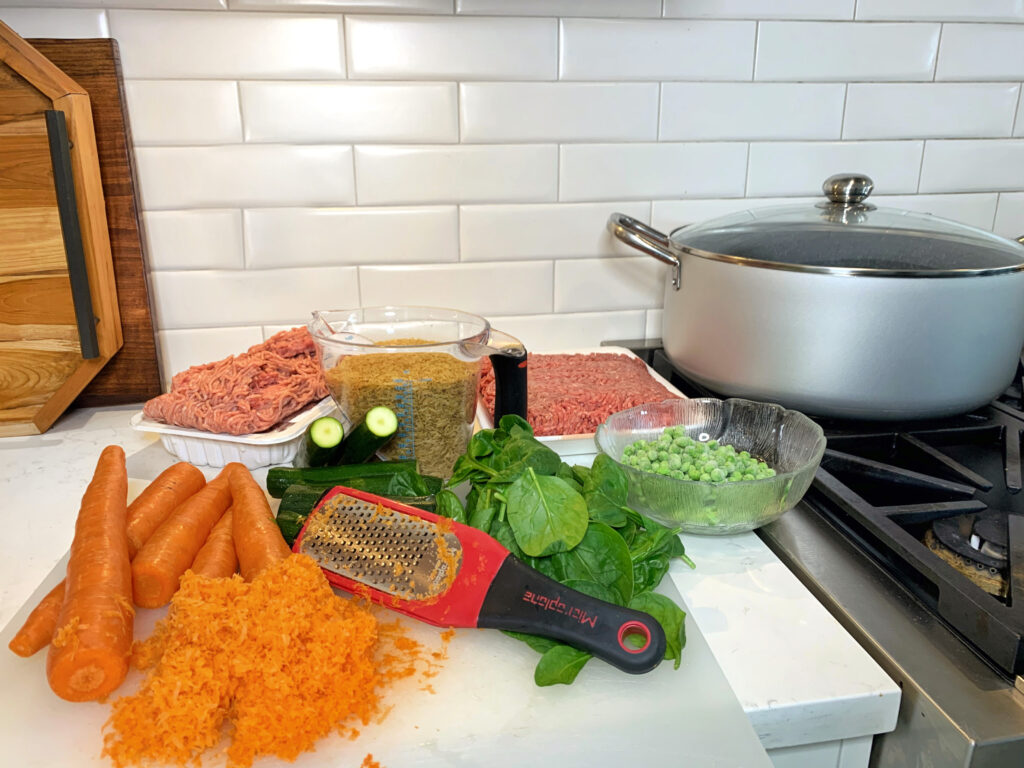 Step 1: Cook the rice. Bring 3 cups of unsalted water to a boil. Add the rice to boiling water and lower the temperature to a gentle simmer. Leave until cooked through.
Step 2: Heat a large pot to medium-high and melt the coconut oil. Add the meat, stirring often, until cooked through.
Step 3: Once the meat is fully cooked, remove the pot from the heat and stir in the cooked rice.
Step 4: Stir in the vegetables at the very end without any direct heat. This helps the veggies keep their nutrients. Mix until the spinach is fully wilted.
Step 5: Let the food cool fully before packaging and storing.
This recipe keeps for 3-4 days in the fridge and up to 6 month in the freezer.
Supplements
Dogs should be on a whole-prey diet, meaning in the wild they'd eat more of the animal than the cleaned meat humans buy at the grocery store. They'd eat cartilage, small bones, and organs, too. In order to properly nourish your dog with homemade dog food, be sure to speak their vet or a knowledgable dog supplement supplier abotu what you should be adding in for your pet's weight, breed, and activity level.
Even with supplements, Ralf's food is way cheaper — nearly 1/3 of the cost — than any other cooked, balanced foods on the market.