While I love cooking, baking has never been my jam.
Sure, it looks like fun on The Great British Bake Off, but it's tedious and exact – two things that don't mix with my haphazardous, creative spirit. On World Baking Day I have nothing to offer you, so I've brought in the big guns to bestow some leavening-love and tips: Kelsey of Rainy Days Bakery.
Talented cookie expert. Great friend.
– Stef
World Baking Day, hey?
In my world, it's almost always baking day, or should I say cookie day!
I'm Kelsey, the one behind Rainy Days Cookies. The one who stays up until the wee hours of the night working on cookie orders, the one who runs out on her lunch break to deliver a cookie set and the one who slides in bed next to her husband some nights and instead of saying "goodnight" says "you should see the cookies!"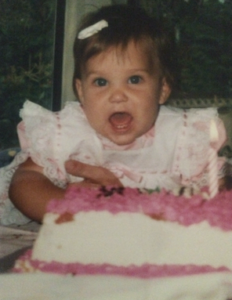 Baking isn't something I remember learning per se, it was just something I grew up with. My mom baked a lot while I was growing up, always making our birthday cakes and other treats. So, baking is just something we've always done.
I started making sugar cookies with royal icing about 6 years ago, and Rainy Days Cookies has been a thing for over 5 years now. I fell into it very naturally with Christmas cookies for friends and family, which soon became people placing orders for special occasions. From there, things grew quickly by word-of-mouth (thanks guys!) and Rainy Days Cookies was born.

Rainy Days has always been my side hustle, but it's so much more than that most days – it's my creative outlet and almost a form of meditation for me. Music on, icing bags in my hand and I could decorate all day (except for the hand cramps that sometimes accompany). Rainy Days Cookies has become something I'm outrageously proud of, how could you not fall in love with these little guys?

I often get asked how on earth I decorate my cookies. My advice to anyone starting out is to always have two consistencies of icing per colour. A hard icing to outline and pipe all the detail, and a soft icing to fill in the outline. Always let your first layer dry before adding another layer of detail or colour, your finished product will look much cleaner.
My second piece of advice? Your first cookie is not going to be a masterpiece (you should see my first cookies, ha!) and don't be too hard on yourself. Have fun with it, and the more you start icing the more comfortable you'll feel and it'll soon become second nature.
My third piece of advice? Always use parchment paper to bake your cookies. Trust me.
Happy Baking!