I was recently asked by a couple of readers what I do full-time in my offline life. I mean, I was a little shocked that people knew I wasn't paying my bills like this (ha! yeah right) but, it's not far off of what I do here.
You've probably noticed the thing that fuels me most is a good story. A story about real people right now, about fashion, about overcoming adversity, about fiction, about anything really. And those stories (à mon avis) are best told through written word.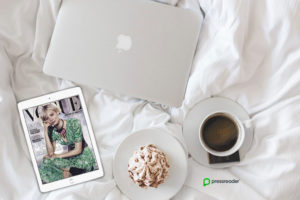 As the marketing manager for PressReader, I get to spend my days pouring over stories from around the world, and find ways to get them into more hands. Not a bad gig if you ask me!
Want to check out the full catalogue which includes Vanity Fair, Bloomberg, Washington Post, Elle, and your local news? Pop by one of our HotSpots to get sponsored access. Yes, fully sponsored. Meaning, one of our incredible business partners is going to pick up the tab on all of your favourite titles.
Want to know a bit more? Check out this video I did with a few of my fashionable friends about our glossy titles.