Chances are your environmental impact isn't your top priority now that we're in full swing of the holiday season. I know soirees, the excitement of finding the perfect gift, buzzing around from one place to another, and all of the food and drinks are ranking higher on this gals list.
However, I have daily moments of overwhelming guilt and disgust at the disposable shopping bags, the obscene amount of food, and the general wastefulness of the season. I'm one of those crazy Christmas people, so this inner-battle has been nagging at me. Then I remembered what my girlfriend Courtney Watkins said, "Sustainability isn't about a few people doing it perfectly, it's about lots of people doing it imperfectly." She's a smart cookie.
Here are some ways that I'll be stepping more gently this holiday season. I hope it inspires you to share ideas and take a look at your traditions that could use some eco-friendly tweaking.
Cut the crap: is this useful?
Man, there's a lot of funny junk out there. It's so easy to find plastic toys to stuff kids' stockings, and gag gifts that are under $10 that will brighten a coworkers day with an inside joke. But, enough already. Think about whether this item is actually useful, or if it'll wind up in the garbage or next donations box.
Instead, buy items this person can enjoy (sweets or their favourite craft beer), use (notebook or coffee gift card), or learn from (colouring book or puzzle). Plastic products are super cheap, I get that. But, there are other, better items at that price-point that didn't kill the planet in production and won't when it's time to throw them out.
Consider travel time: buy local
This applies to gifts and food this season — and always! Buying local means that the item hasn't used a ton of fuel to get to you, and usually means that the ingredients and materials are held to a higher standard under Canadian law.
Bonus: Beyond the environmental impact, many countries have very poor ethics and legalities around employee conditions, safety, age, and hours worked.
Give the gift of memories: experiences over stuff
Experiences are an awesome way to set a date early into the new year to connect outside of the seasonal mayhem. Experiences don't get thrown out in a few months. Experiences often contribute to arts and culture, sports, or your health and well-being. Experiences always fit. Experiences are the perfect gift for the person who has everything.
Experiences are the jam.
Wrap mindfully: reusable, recycled, natural materials
Wrapping is one of my favourite things about the holidays, so it's an area I'm cutting back on versus cutting out. I've been more diligent about what materials I allow in my paper and trimmings. It breaks my heart knowing how beautifully evil sparkles are! But there are ways to keep a cohesive aesthetic that still looks luxe under the tree.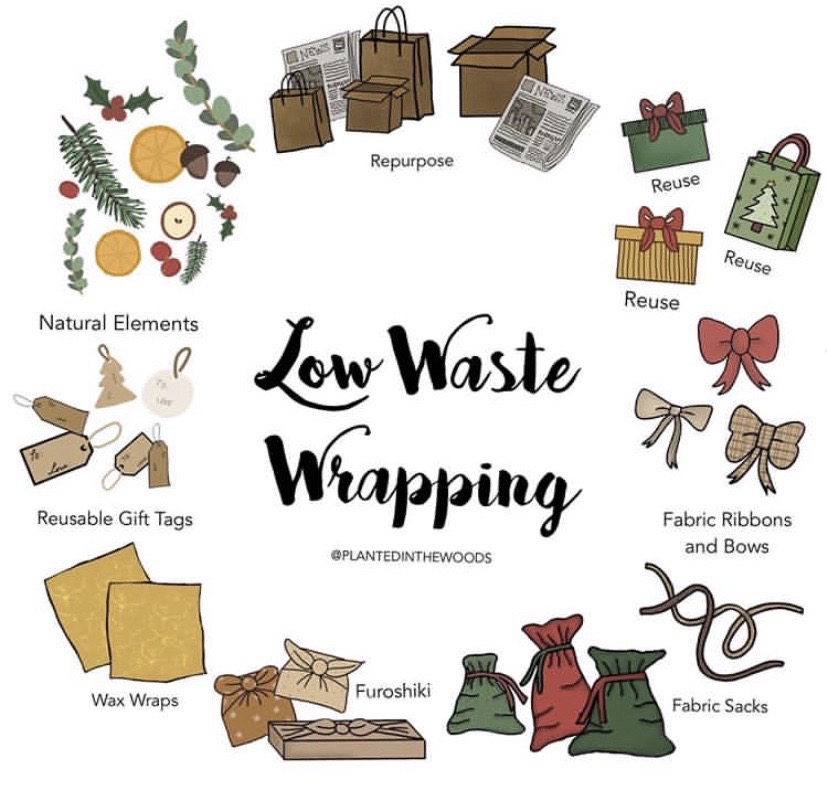 Skip the animal products: you can still keep the turkey.
It's no news that animal products have one of the worst impacts on the environment. (Fifth, to be exact.) However, I'm a realist and flexitarian who knows holiday traditions usually revolve around food. This is a great place to use Courtney's mantra about doing sustainability imperfectly. Keep the turkey, keep the bacon on Christmas morning, and put dad's favourite jerky in his stocking. Just take stock of places that you can use an option that doesn't involve animal products.
A few ideas… Sub out your dairy and eggs in baking. Use a coconut cream cheese to top your sugar cookies. Buy a vegan sausage to make a breakfast scramble with chickpea aquafaba instead of eggs. Use vegan mayo as a base for your dips.
Growing up with severe allergies to dairy and eggs, there were terrible substitutes for butter, eggs when baking, ice cream, and cheese. Today, there are amazing options available in every grocery store, and boujee-ass options available in vegan specialty shops.
Alex is a carnivore. Full stop. But there are tons of recipes he can't tell the difference in, and sometimes even prefers. Today, we have the option to buy wiser, so why not make the right choice?
What did I miss?
Do you have go-to ways to step a little lighter this holiday season? I'd love to hear how you're bringing mindfulness to your traditions. Share below.
You might also like