The first sunny day of the year, Vancouverites flock to their favourite patios in the city. After months of rain, who doesn't want to eat outside and do a little people-watching? Well, it's August and with all things pandemic, I don't see patio-hopping any time soon. A lot of Vancouver restaurants have expanded out onto the streets, and many are weatherproofing to take us into the fall.
As a skilled patio sipper, here are my favourites. Starting with my 'hood, Gastown.
Gastown
Local
If you follow me on IG you'll know we're here… a lot. Hell, we even did some of our engagement pics here. The patio is huge and epitomizes the Gastown charm of tree-lined streets and cobblestones. The food is consistent and high-quality, with something for everyone. The service is awesome.
I recommend: the fish tacos, any of the burgers, wings (duh), and the harvest salad.
The Greek
These guys have done an awesome job expanding their space out onto the street, and while it's a sort of beer garden thing, it works for them. (Not so much for their high-end neighbours…) Expect to hear hip-hop, share food, and do a physically-distanced shot of ouzo with one of the staff.
I recommend: any of the dips, souvlaki — salmon in particular, and if you're hungry the country lamb is unbelievable. (Hack: for a low carb option or small meal, ask for souvlaki on a side of mixed veg.)
The Birds and the Beets
Since they expanded their seating outside to the Alexander Street side of things, this place has total London vibes. You can grab a bottle of wine and a few glasses and chill with friends in a super relaxed situation.
I recommend: the chicken sandwich is unbelievable, and they always have delicious vegan treats and meal options. The coffee isn't up my alley, but of you like that weak, almost sour kind of bean, sip away!
Water Street Cafe
This iconic Gastown locale recently changed hands, and the menu and service absolutely kill it. They've expanded their outdoor seating to keep capacity up, and are running things extremely well to abide by COVID regulations.
I recommend: the salmon starter — half smoked salmon, half raw salmon. All delicious.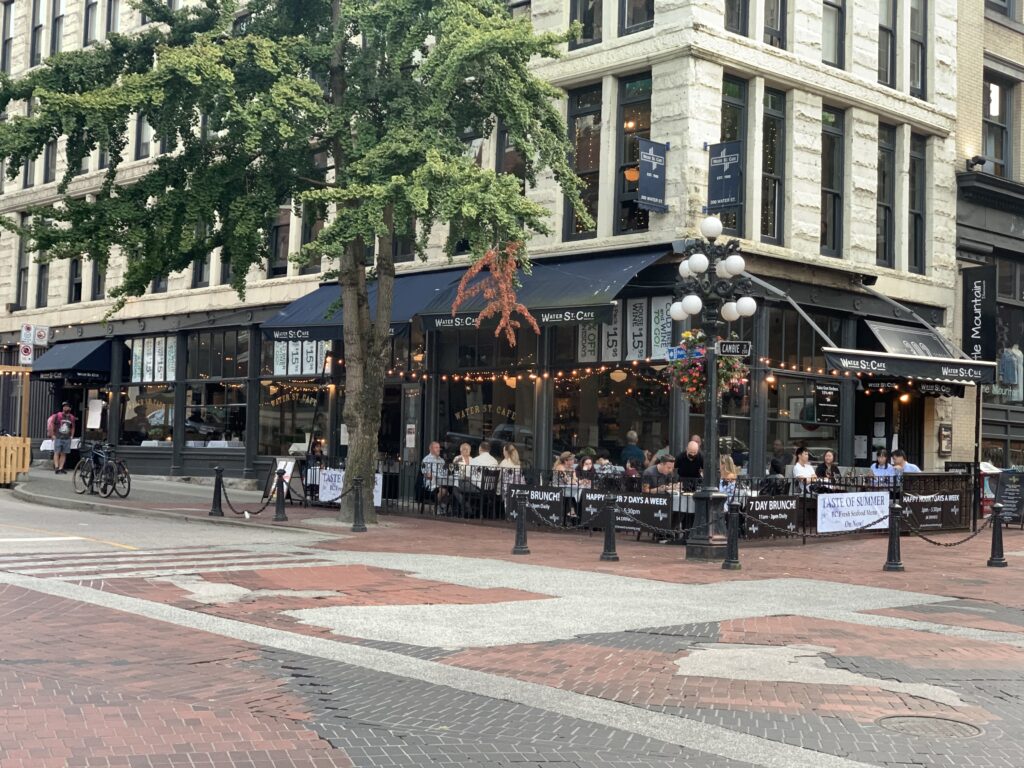 Coal Harbour
Jos
We tried this pizzeria last week when I got my Vespa — Italian seemed like the right choice — on a reco from one of our foodie friends. It did not disappoint. The dough was thin and bubbly and all of the ingredients were super fresh. It's owned by a retired guy who's just passionate about pizza, so the service was exceptional.
I recommend: any damn pizza. (We opted for no cheese to accommodate my allergy, and they gave Alex some amazing parm to sprinkle on top.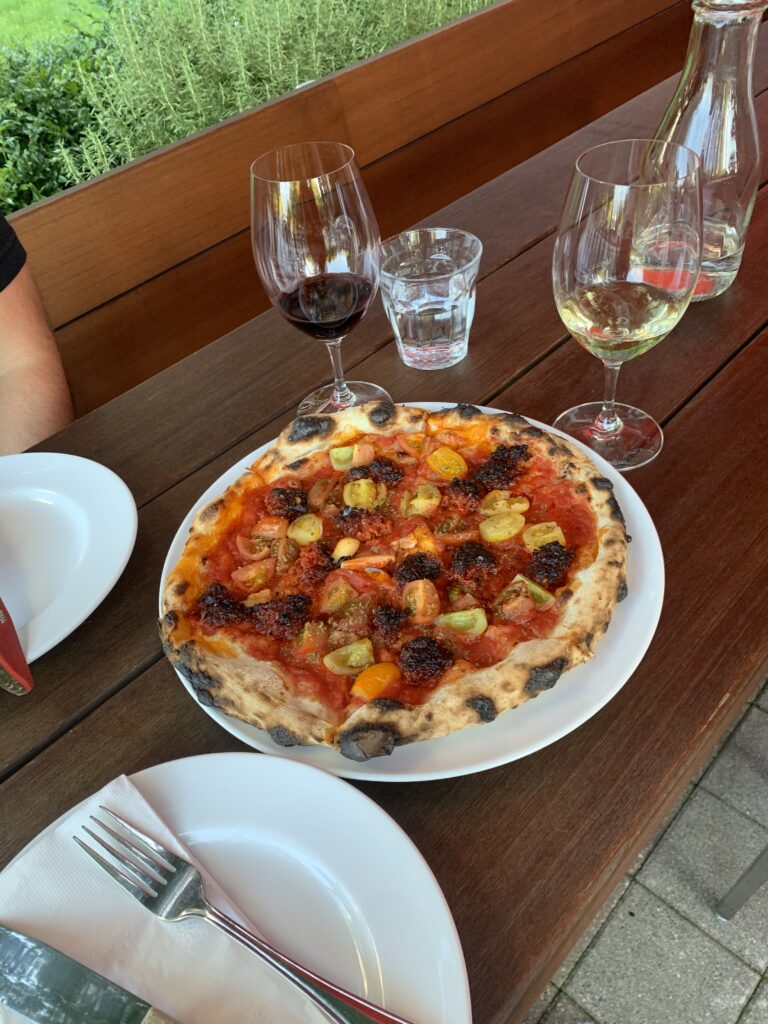 Cardero's Restaurant
I used to live near Cardero's and go there often. To be honest, the food is good but not anything to write home about. But the patio on the marina is beautiful and the wine list is great. They also have live music there every now and then.
I recommend: the woks, and the salmon burger.
Joe Fortes
Could you even have a Vancouver patio list without mentioning Joe Fortes? No is the answer. This central, rooftop garden is always impressive and the service is tip top. With capacity numbers cut down due to COVID, they were finally able to expand onto the south side of the garden — which we all wonder why they hadn't done so before!
I recommend: happy hour, oysters, the chop salad (it's huge!), and whatever special the chef has on that day.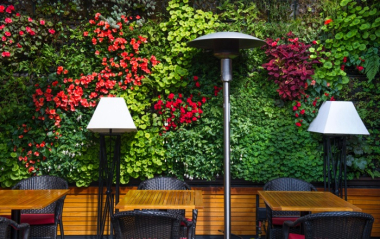 Central
Giardino Restaurant
Giardino isn't quite central — it's not Yaletown or the West End either. But the patio is great for lunch whether you're entertaining a client, want some girl time, or a date. The courtyard brings a little old-world flavour that almost makes you forget that the pasta is mediocre and overpriced. (I'm only half kidding.) You go to Giardino for the Tuscan ambiance and service — and overall, the food is pretty good.
I recommend: cocktails (the bartenders are awesome), spaghetti alla vongole, and if you're hungry, share the florentina.
Yaletown
Provence Marinaside
This little slice of heaven is just off the beaten path and offers up a great brunch. It's my fail-safe place to meet a girlfriend from a proper catch-up. Their happy hour actually offers savings, with great menu options as well.
I recommend: the avocado toast, and my friends — who aren't allergic to eggs like me — rave about all of the eggs benny and crepe options.
The Keg Steakhouse
While it's a chain restaurant, the food quality Keg locations is primo and consistent. The rooftop at the Yaletown location is awesome, and come fall it'll still be open with their fireplaces. It's a great place to dine or just share some appies. It's also still one of Alex's favourite spots for a steak.
I recommend: the classic caesar, the prawn cocktail, and any steak of your choice.
Banter Room
I used to only pop into Banter Room for cocktails, but they recently refreshed their menu and it's bomb! The decor is awesome, the servers can read a table, and it's always a good time.
I recommend: the spicy marg, the summer salad, and the poke bowl.
Granville Island
Popina Canteen
We just discovered Popina' Canteen last weekend and were thoroughly impressed. Me with the branding, Alex with the lobster roll, both of us with the view. Granville Island can get a little hectic but this container-turned-restaurant had some seating and a little walk-up concession counter.
I recommend: grabbing a drink and sitting on the main pier. Alex recommends the lobster roll, and I'll be back to try some of the vegan options.
Dockside Restaurant
Dockside is in the Granville Island Hotel, and for some reason it always falls off my radar. It's incredibly cute with little cabanas and a laissez faire vacation vibe to it.
I recommend: the mezze platter and a vacay-inspired cocktail.
Kitsilano
Las Margaritas
Again, if you're here you know my love affair with this place. It's casual, the staff is chill and welcoming, and the food is amazing. The patio is authentic and adorable, and it's just shady enough to break the heat.
I recommend: the tortilla soup, taquitos, micheladas without clamato, and taking some salsa and chips home with you.
***
Writing this list, I realized I need to spend more time in the West End, Commercial Drive, Main Street, and Mount Pleasant. Let me know your patio suggestions for those areas in the comments below — we love trying new places.
You might also like