Is there anywhere you'd rather be on a hectic workday than sipping a glass of rosé in the south of France? If you answer yes, you probably shouldn't subscribe to my content, because this is sort of my vibe.
Our recent Euro-trip was planned around this week-long getaway to St Tropez with friends. One of the couples had just tied the knot and thought inviting a crew for a "freineymoon" in the middle of their honeymoon was a good idea.
It was a great idea — turns out honeymoons are damn fun.
I was off to a rough start when we took the speedy train from Paris, after spending the previous night going 'tini-for-'tini with Alex. Woof. I've never felt motion sickness before, but a rear-facing seat and a hangover were all it took. Needless to say, I was relieved to arrive in Toulon and get into a regular old Uber.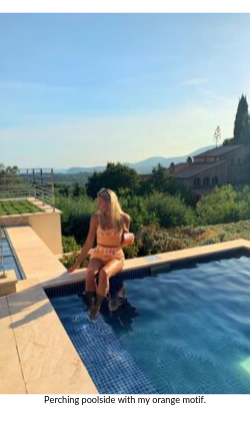 We stayed in a gorgeous house outside of St Tropez, in a place called La Croix, that fit all twenty of us. (Yes, twenty.) The bride and groom had our itinerary dialed with resos, transportation, and meals at home-cooked by a chef. You can imagine how happy I was when they sent out an Excel spreadsheet with dates and hyperlinks in advance.
Absolute musts:
I'm going to break format a little here, and start off saying there are two places you absolutely must go when you're in St Tropez: L'Opera for dinner and Loulou's beach club for sunshine and lunch. (Yes, the same Loulou's as my favourite lunch spot in Paris.)
L'Opera is a freakin' blast. I'm not sure what was more entertaining, the performers and aerialists or the people watching? Actually, it was definitely the people watching. This place is so incredibly over-the-top: from the kinky photo art, to the topless dancers, to the serving staff wearing blazers self-proclaiming "I'm a fucking good waiter." The location is right on the main marina in St Tropez, so I don't have to tell you how interesting the clientele was. But it spanned from 12 year olds taking SnapChat videos holding bottles of Cristal their parents bought by the bin-load, to older men parading two or three dates each that were at least three decades younger than them. While super kitsch, missing this place would be a huge miss.
Loulou's is one of the newer beach clubs on the main stretch. It's fresh-faced, the food is awesome, and the staff made our experience super memorable. Although, it's a toss-up between their mullet wigs and riding a Vespa onto the beach with our drinks, and my girlfriend using the ice bucket as a dance prop. Either way, this place is an awesome spot to relax and have a nice Mediterranean lunch, or turn up. (We did both.)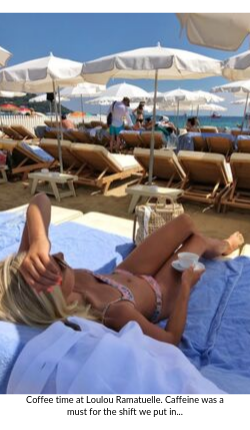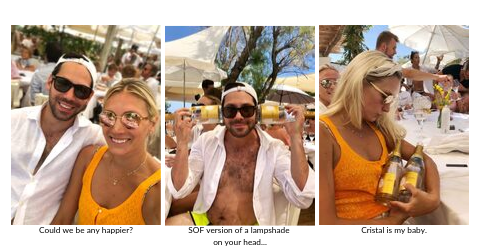 How to get around:
As I mentioned, we hired private vans to haul our group around. But, depending on where you're staying it can be a real challenge to get a lift. Taxis are scarce and there seemed to be a total of three Uber drivers in the area. If you want to jump ship or stay later than the scheduled rides, you were looking at 100 € for a twenty minute ride.
Keep in mind the roads are mighty windy up the side of the mountain ranges. Not the best after a day of rosé in the sunshine, especially if you're seated facing backwards.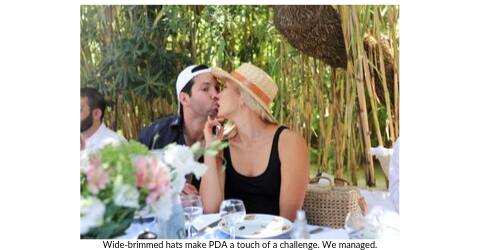 Where to beach club:
Everyone is going to tell you that Club 55 is the crème de la crème of SOF beach life. Sure, it's been around a long ass time and is the quintessential experience from overpriced cocktails to apathetic staff, but the mats on the sand that they call daybeds and the underwhelming food left something to be desired. Maybe I'm just disappointed we missed Jeff Besos and his entourage by 24 hours. We did have a sweet server at the beach, the merch store was a success, and our girlfriend, Char, got to put on a Lady Gaga performance with the in-house band.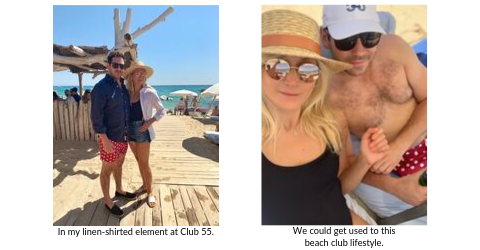 The groom is a big toy guy, so one of the days we rented a couple of gorgeous VanDutch boats and sped out to La Guérite in Cannes. I use the word sped because I've never seen so much rosé go airborne, at least not with so little mind by the chartered captain. Definitely recommend this place, the scenery is stunning! We were a little earlier than the party started, although having a team of twenty meant we brought our own party. You could spend a lot more than the two hours we allotted here. I'm looking very forward to going back. Alex was pumped that the French urban myth (and popular movie) The Man in the Iron Mask took place on the island La Guérite perches on. It was allegedly where Leonardo DiCaprio's character's twin brother (also, Leo) was imprisoned. Alex was so pumped, in fact, he made me watch the movie within days of returning home.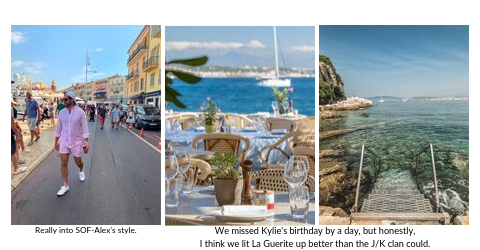 The day before we all parted ways, we popped into another new beach club Cabane Bambou. I loved the décor, the food looked amazing, and the staff were much more authentically French than the other more touristy/English spots. However, we looked a bit like the walking dead at this point, making it tough to put back any more burrata or drink rosé. I'll be heading back here in the future with a little more steam.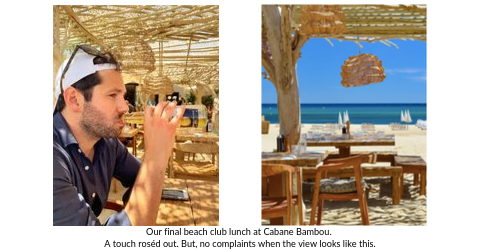 Where to drink:
The first night we arrived we hit Byblos for some terrace drinks and headed to their club, Caves du Roy, for a quick spin around the dance floor. Worth a go, for sure.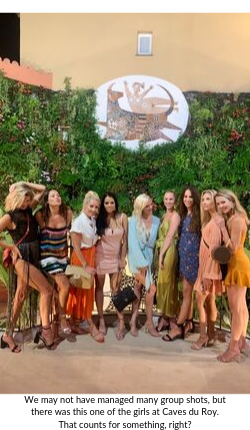 Misses:
The weather was scorching when we were there (read: 35+ Celsius), so we didn't spend much time in town. When we finally went in for a wander before dinner on the final night I was disappointed we hadn't sucked it up and taken in more of the cobblestone streets, shop, and cafés.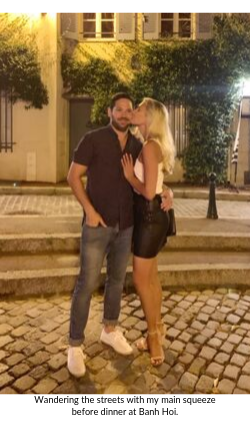 Guess we'll just have to go back…
You might also like