Tofino has quickly become one of our favourite places in British Columbia to escape to. We've actually gone twice in the last year. October was an amazing trip, just the two of us, to commemorate the weekend we were initially supposed to get married. Then we went over the July long weekend with three other couples. While both trips were different in season and mood, a few things are certain about Tofino: you'll leave relaxed, you'll eat well, and the fresh air hits different. It's also Ralf's version of heaven on earth.
How to get there
It's not a quick trip from Vancouver, but we still recommend going by ferry and car. Flying in on Harbour Air is a great alternative, but Tofino isn't a place you want to be without car transportation. Be sure to book a reservation for your ferry ride to Nanaimo so you don't have to wait for a few hours like we did. (Oops! I knew we were forgetting something!) The drive is really scenic, so download a few podcasts and stop at the little island towns along the way. Old Country Market (a.k.a. Goats On The Roof) in Coombs is a great place to fuel up and get a pic or two.
Tofino is paradise for dogs
As I said, Ralf loves Tofino. Both times we stayed on Mackenzie Beach (more on that below) so he could walk straight out to the beach and run around for hours. What's a leash??? There are plenty of dogs to chase after and show off his super speed to. We can see him 500m in front of us so he gets a taste of true freedom. Almost all of the patios we went to were dog friendly, which is refreshing coming from Vancouver where pups on patios is allegedly against the provincial health code…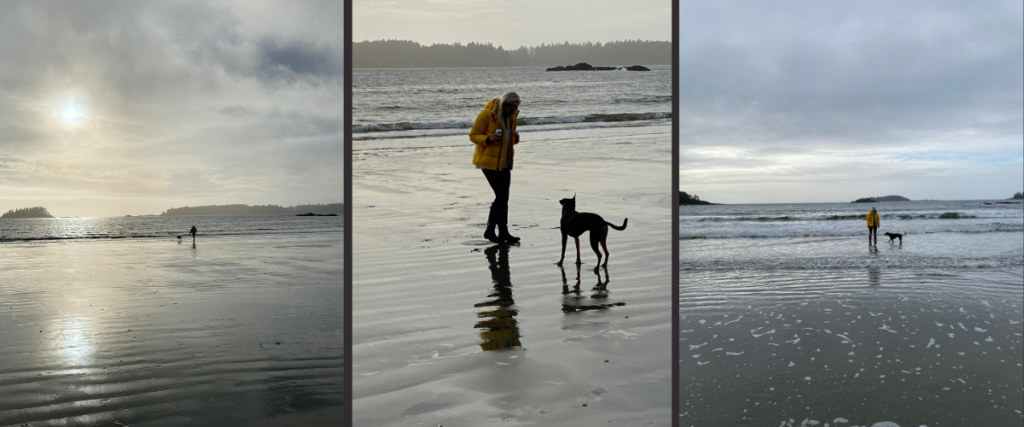 What to do
Do NOT over-schedule yourself! One of the best things about Tofino is grabbing a coffee and wandering along the beach without a care in the world.
Get surf lessons
I do recommend getting surf lessons, and on both trips we used Pacific Surf Co. The staff were so fun and incredible, wetsuits were included, and I felt safe and supported the whole time. And yes, go in the cooler months — I'm a baby with cold water but was surprised how hot and sweaty I was even in October. Not to mention I burned over 800 calories in 60 minutes!
Build a beach fire
I was so proud that I got ours going! Who knew I was so outdoorsy? But there's nothing quite like being bundled under a blanket watching a fire while you listen to the ocean waves. It's medicine, and this corner of BC is full of it.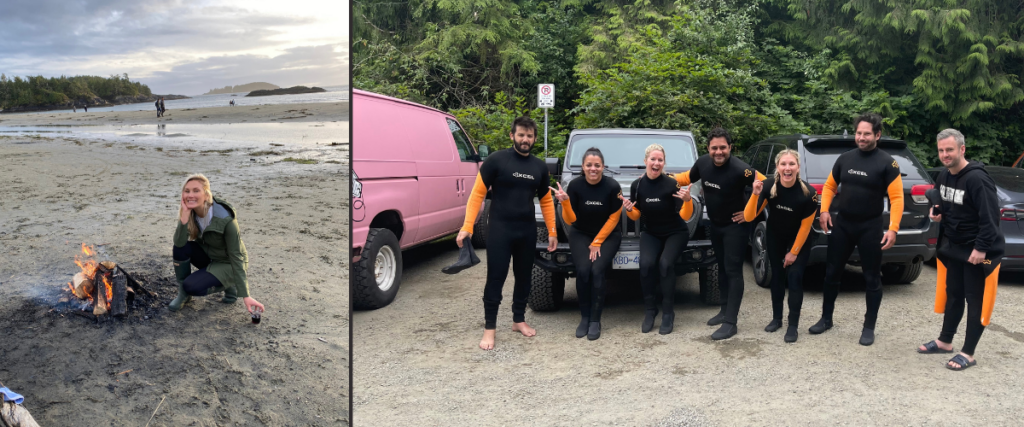 Where to stay
There are a lot of really beautiful places to stay in Tofino, whether you're a couple, family, or group of friends. During our last-minute October trip, we stayed at the Best Western Plus Tin Wis Resort. Yes, you read that right. And folks, I'm telling you I'd stay there again in a heartbeat. We had a ground-level room that opened up directly to the grassy yard — reminiscent of Hawaiian hotels — right on Mackenzie Beach. The room was clean and modern, the breakfast was healthy and filling, and they offered all of the beach necessities like firewood and s'mores kits.
Our July trip was spent at Ocean Village Resort — adorable cabins also right on Mackenzie Beach. We had a spacious suite, kitchen and all, right on the grassy lawn leading to the beach. It was awesome for gathering our group for dinners, lawn games, and being close to the fire pits. Ocean Village definitely has more charm than the BW, but the rooms aren't as updated and the price was double.
Best advice: stay on a beach and somewhere between Tacofino and the town center. You'll have the Pacific Ocean within reach and be able to walk almost everywhere else.
Where to eat and drink
These are the places I say you should plan to hit while there.
Lil' Ronnie's Beachside BBQ: This place is so fun! It's authentic barbecue served in a garden with quirky decor. Check to see when they have live music playing on their makeshift stage and feel transported to the deep south.
1909 Kitchen: Cute casual fine dining spot at the marina. We hit this place up on our first trip and it's sort of a no-brainer. Think Earls or Cactus Club — with an amazing view.
Tofitian Cafe: Worth the morning line-up. They have the dark roast, Italian style coffee I like best and lots of vegan options for pastries. I highly recommend the vegan pumpkin loaf that's loaded with dried fruit and seeds. It's located in the same park as the Tacofino truck and the amazing food at Wildside Grill. If you're looking for quick eats after surfing, either of these is perfect.
Wolf in the Fog: Make a reservation! This place is stellar. We ordered pretty much everything on the menu with our group and — even with one very foodie person in the group — each dish was incredible. Great cocktails, intimate setting, fabulous service.
Insider tips about eats:
The Wickaninnish Inn is a beautiful property with amazing views from their dining room. However, it's a really slow Relais and Chateaux service and IMHO not necessary for a big meal. It's worth seeing — so go midafternoon when there's no dining rush and enjoy a clam chowder while you watch some impressive surfing.
Shelter also has a big fuss around it right now. Tofino won't let any chain restaurants in, but the Cactus Club group found a loophole. It's cool — but if you've ever been to a Cactus restaurant, you've been to Shelter.
***
Have you been to Tofino? What should I try on our next trip?
Find more travel inspo over at the A Broad Abroad section of the blog.
You might also like