Even though our wedding was in Arizona, I wanted to support independent, Vancouver-based wedding vendors as much as possible. I was particular with my overall aesthetic for the big day. I wanted everything to be elegant, classical, and glamorous — but still approachable! Vancouver's bridal industry is great for this because even the classiest designs have a laid back West Coast vibe about them.
Here's a look at the local companies we used for the most special day.
The Rings
My stunning sapphire engagement ring was designed by Vancouver Diamonds. Alex knew I wanted the blue center stone set in yellow gold but worked with Josh to custom design the final piece. It was beyond what I had imagined!
Our bands were designed by my friend and client, Tori at True Curated Designs. I love the mismatched stacking style so opted for a band of vertical baguettes. It's a real show stopper! I can't pay for coffee without the barista commenting on it. Alex went with a 4mm yellow gold band. It's understated and classic without being a snooze.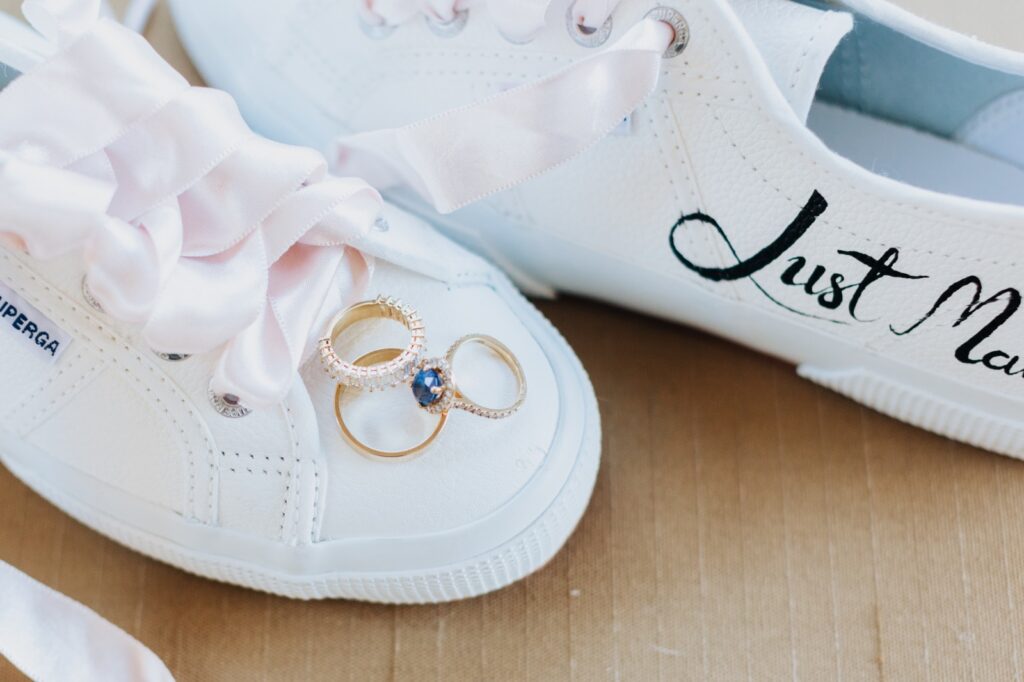 The Dress
The wedding gown of my dreams was nothing like what I thought I was going to get. I was sure I was going low, lacey, and A-lined. But I walked into Gastown's Rituals of Love and the stylist there, named Kady, said I needed to try on the beautiful Pronovias dress that I ended up choosing. My mom's reaction wasn't the tears that I expected, rather she exclaimed, "Holy shit!" It was the first dress I tried on and nothing measured up after that.
I loved my dress so much and was happy the sleeve detail could pop off for dancing!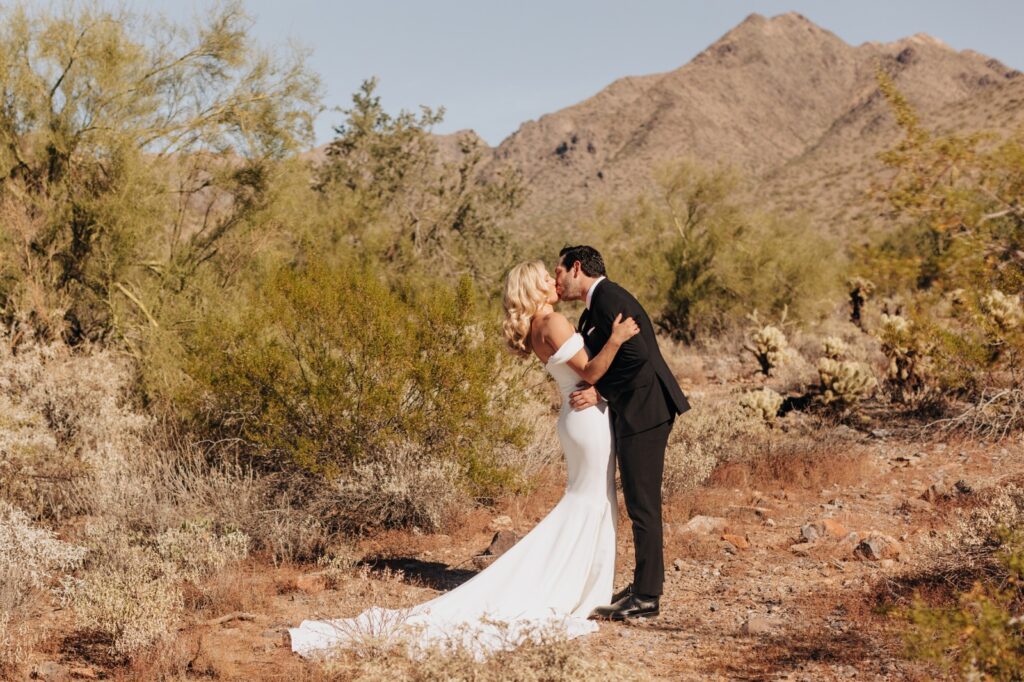 The Veil
Kady, the stylist who suggested my wedding dress, is the owner of the Jane Rhyan Collection and designed my veil. She also created a fun second look veil for our afterparty.
Now, y'all aren't going to believe this but — even after one bridesmaid spending an hour steaming it, my sister learning how to clip it into my hair, and with eight bridesmaids to give me the once-over — I forgot to wear my veil down the aisle! We also did pictures before the ceremony and were so worried the veil would hold the orange Arizonan desert's sand that I don't have a single picture of me wearing my veil!!!
Luckily, my sister is getting married this June and now it will have its moment of glory. I also know how I'm going to put it to use in another exciting way…
The Earrings
I should probably give all of my styling credit to Kady at this point… once I explained what I was looking for in earrings, she introduced me to Okanagan-based jewelry designer Simone Martin. I knew I wanted the neckline of my dress to speak for itself and only wanted to wear a statement earring. I loved the simplicity of these drop pearl earrings that still stood out and felt very bridal. Classical but modern.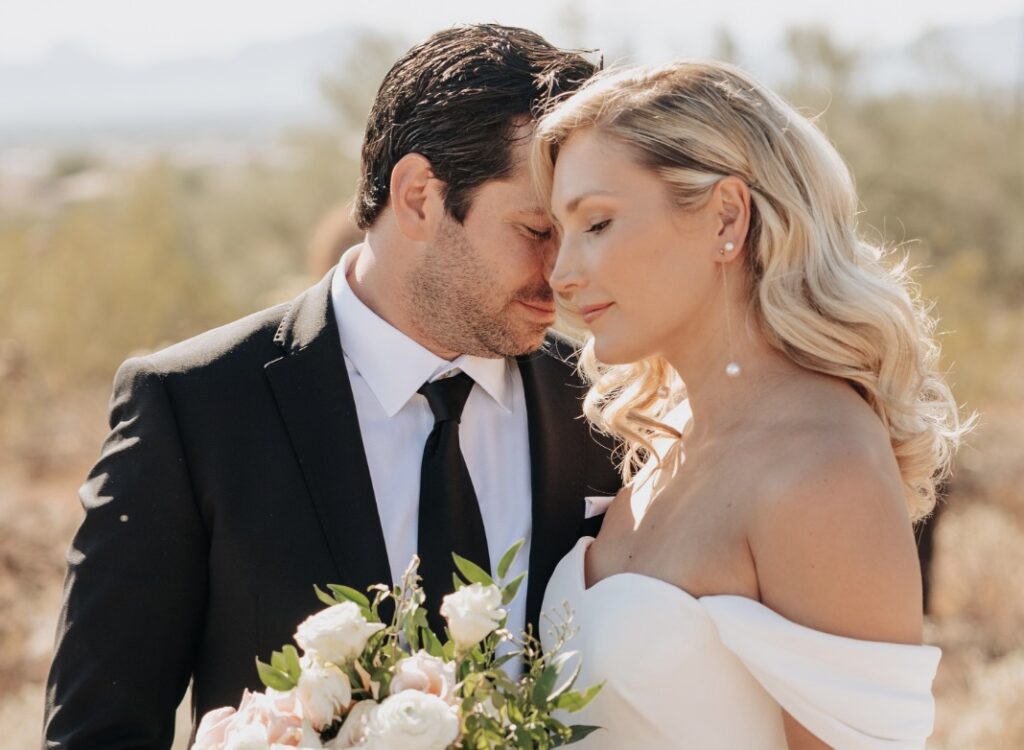 The Bridesmaids
I've always loved the ready to wear line from Park and Fifth. They've been a local go-to for weddings, showers, holiday parties, and other occasions for me. What I loved most about their Un-Bridesmaid Collection was that each of my friends could choose a dress that suited their style and body best. I can't imagine finding one style that would have suited ages 15 to 38, the varying body types and skin tones, and giving them the ability to choose something they were comfortable in.
The hunter green was stunning and understated on all of them, and complimented the venue and outdoor pictures so perfectly.
I interviewed the three Vancouver-women behind P+F a few years ago. Check it out!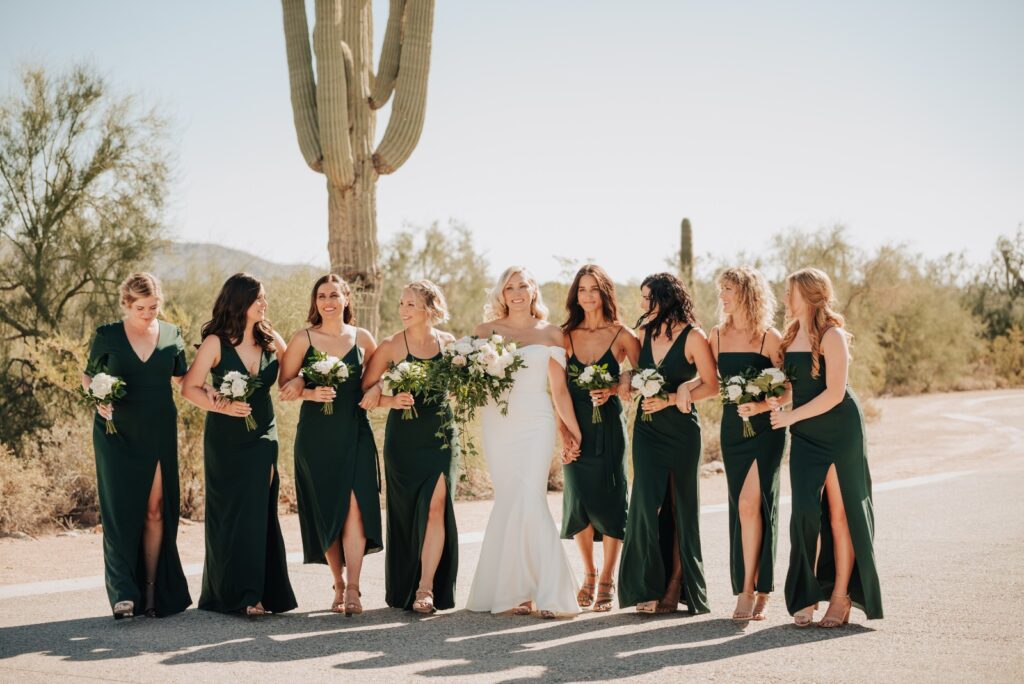 The Bridesmaid Gifts
My friends are my true soulmates so I wanted to get them something really special. Alex and I weren't the only ones who received rings as a symbol of love's existence without a beginning or end. I gave my girls a simple gold stacking ring also from True Curated Designs.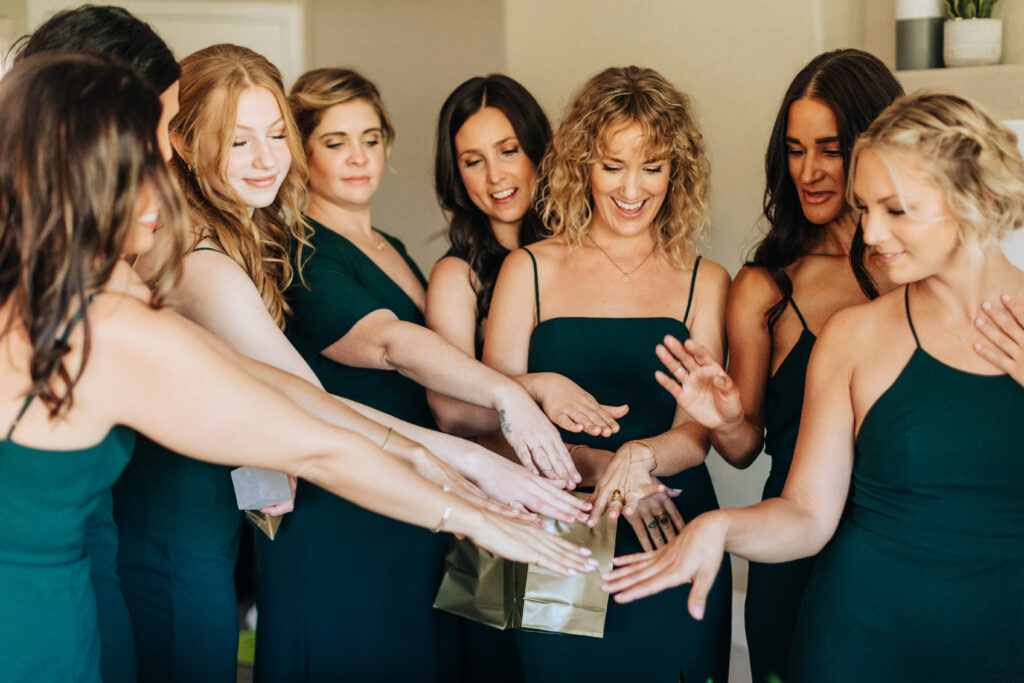 The Second Look
I like to dance — a lot! So, a bustle-free dress that I could move in was needed. Park and Fifth offers a stunning bridal line of sleek, modern styles. I went with the Kingston paired with custom Superga sneakers and a fun Jane Rhyan veil for our afterparty! (As you can tell… we were having a really good time by the end of the night.)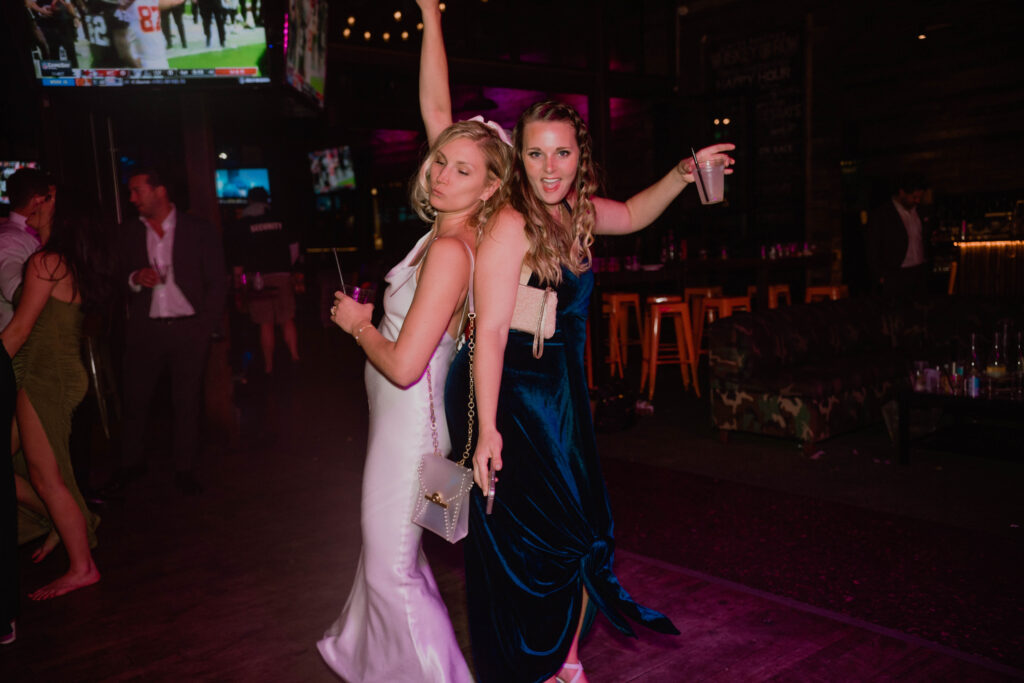 ***
We had such an amazing experience with all of thes independent companies. I'm happy to answer any questions or send you more info about them. Don't forget to shop local!
You might also like