Our first stop in Italy was Florence. We only had three days to spend in the land of pasta and bruschetta: one in Florence and two in Rome. While I'd driven over the border from Monaco for dinner years ago and spent a weekend with friends in Sardinia back in 2014, this was my first time truly exploring Italy.
The train from Monaco to Florence was painless and had the prettiest and most interesting views of the coast and villages. The wall of heat we experienced when stepping off of the train felt like walking into a forno oven. The walk from the station to our hotel was only 12 minutes, but dragging three weeks worth of luggage over cobbled streets in 40-degree weather was torture. We love using Hotwire for last-minute hotel bookings, and this time around Alex found us the most beautiful boutique hotel. Portrait Firenze was newly renovated, our room was enormous, and we were right in front of the Ponte Vecchio. I was obsessed with the soaker tub (of course) since it filled from the sides instead of a faucet. Yes, I did get the make and model for our future home.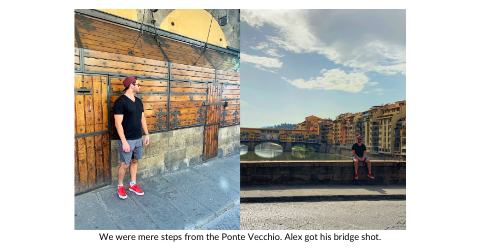 We were a tad hungover from our Monte Carlo cocktails the night before, and food was on our minds. With less than 24 hours to spend in Florence, we tried to kill two birds with one stone and eat while seeing the sites. What an amateur mistake — we were fully tourist-trapped in the Piazza della Signoria. Sure, we had a great view of the Fountain of Neptune and the Statue of David (which by the way is a replica), the food was pretty pathetic. The beer and spritz were cold, though, and we were fuelled up to walk around the stunning city.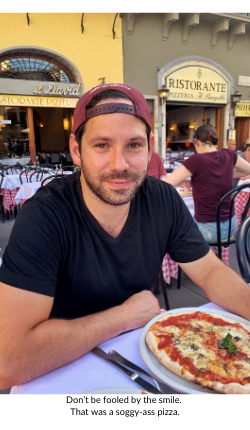 Florence is beyond words. They've done an incredible job of preserving the ancient infrastructure, and making it work for modern-day living. It's full of narrow side streets, markets, and open squares.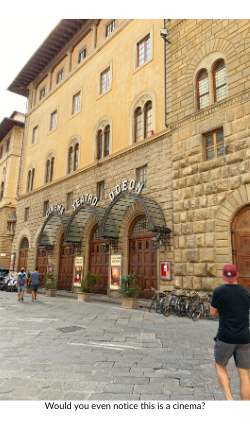 When I worked on cruise ships, we called cookie-cutter city tours "ABC tours". As in "another bloody church." Once you've seen one massive, ornate monstrosity, you've seen them all. Right? Wrong. The Duomo di Firenze took my breath away. The marble detail, the pristine condition after hundreds of years, the feat of engineering even now — let alone in the thirteen century. I was blown away. I cried.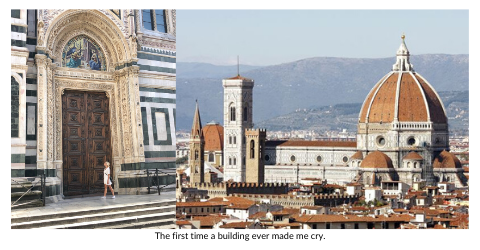 The day ended much too quickly. But we were sweaty with sore feet, and I needed a face mask and a cool bath before even considering stepping out of the hotel again.
Because we were there in August, the town was quite sleepy. Most Italians flee the heat and head to the coast. Many restaurants were closed, but we managed to find this incredible restaurant, Caffe dell'Oro, right next to our hotel. It was previously Michelin rated, the service was amazing, and the food was out of this world. Neither of us thought we were very hungry, but we nearly licked each plate.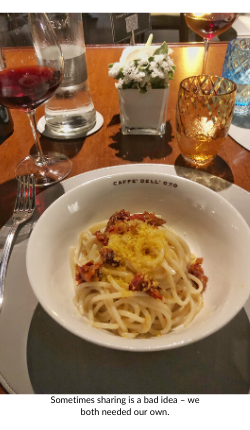 We finished our short time in Florence with a delicious breakfast, and then a drink at La Terrazza Continentale. And Alex learned how to work the panoramic setting on his phone.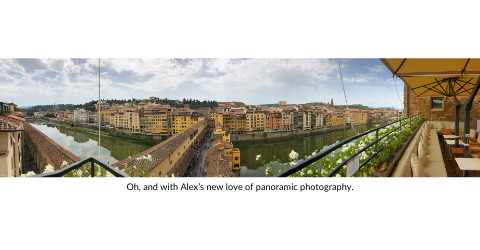 Florence, you have my heart. We will be back soon — in cooler weather.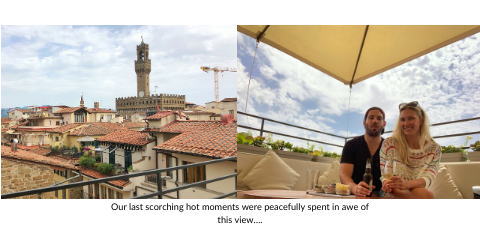 You might also like