Writing this from chilly Vancouver is a struggle and a half. But, doing it with our rescue pup on my lap is lessening the blow. Yep, we did that. Keep reading…
Leading up to Christmas, there were the usual murmurings of potential New Year's trips. I was apprehensive. Did some vitamin D sound amazing? Well, yes, of course it did. However, December brought on more stress than the usual holiday-buzz, since a car accident and rehab, teaching obligations, expanding Broad World, and the chaos of condo selling/moving/purging/buying/financially-planning had been heaped onto the usual work-life balance. I was actually looking forward to a week at home doing nothing.
Alex had other ideas: we were off to Cabo San Lucas. I guess he knows me better than I know myself, because it was just what the doctor ordered.
Why Cabo?
With the exception of a few day trips a decade ago, I'm a Cabo newbie. Luckily, most of our twelve-deep crew were not. They knew where to eat, drink, and be merry outside of the usual tourist traps, and took care of details from arrival to departure. I was pumped to go back and squeeze out a few more drops of the Baja, with friends leading the way.
Also, getting to Cabo is a piece of cake from Vancouver, so that aspect was a no-brainer for a quick trip.
Where to stay
I've mentioned before that big groups are the one time I pass up a hotel where I can gain loyalty points and instead opt for a shared house. It keeps the momentum going, you avoid smaller groups from breaking off, mornings together are hilarious ways to recap the previous night's shenanigans, wrangling people to dinners or excursions is easier, and you can serve yourself drinks, breakfasts, lunches, snacks, 2am quesadillas – without breaking the bank, detouring the crowd, or worrying about dietary restrictions.
Our friends knocked it outta the park with the find of Casa Mar, in Cabo del Sol.
The villa was one of three on the 16th green of The Ocean Course at Cabo del Sol Golf Club, only 20 minutes from the main marina and boardwalk of Cabo San Lucas, where the hype's at. The place is beyond gorgeous.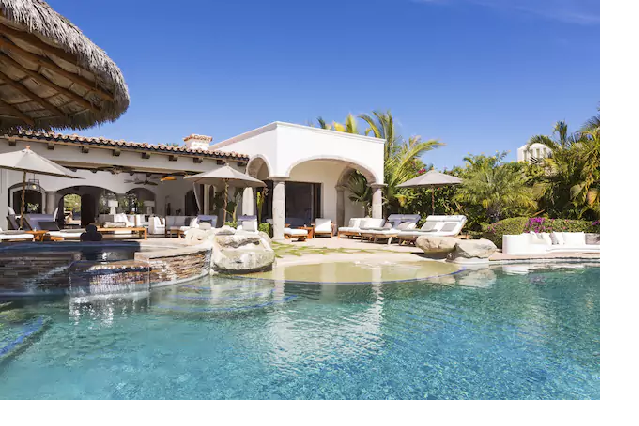 The first few people there stocked the house with provisions, and we arrived to a fresh batch of lime margs. Highly recommend to all travellers who've just waited an hour for customs. #mustdo
Some of my best moments of the trip were at home. We had a chef come in for dinner on New Years Eve, and a few breakfasts, which was ideal. Although it seems boujee, it was actually really reasonable for a group our size with the costs in Mexico, and pouring our own drinks.
Get in ma belly
Having allergies makes travelling somewhere with a language barrier a little nerve-wracking. On this trip, I was able to eat extremely well, and I don't just mean the boatload of fresh quac and pico de gallo I inhaled.
Lunch
A must for lunch is The Office. It's authentic Mexican, and you're seated with your feet in the sand. (Or, if you have a sand phobia like myself, you have your feet on a towel under the table.) Their chicken soup is the bomb-diggity: a delicious bone broth with shredded chicken and rice, served with a side of fresh avocados, peppers, red onion and cilantro. Holy moly. I could eat it every day.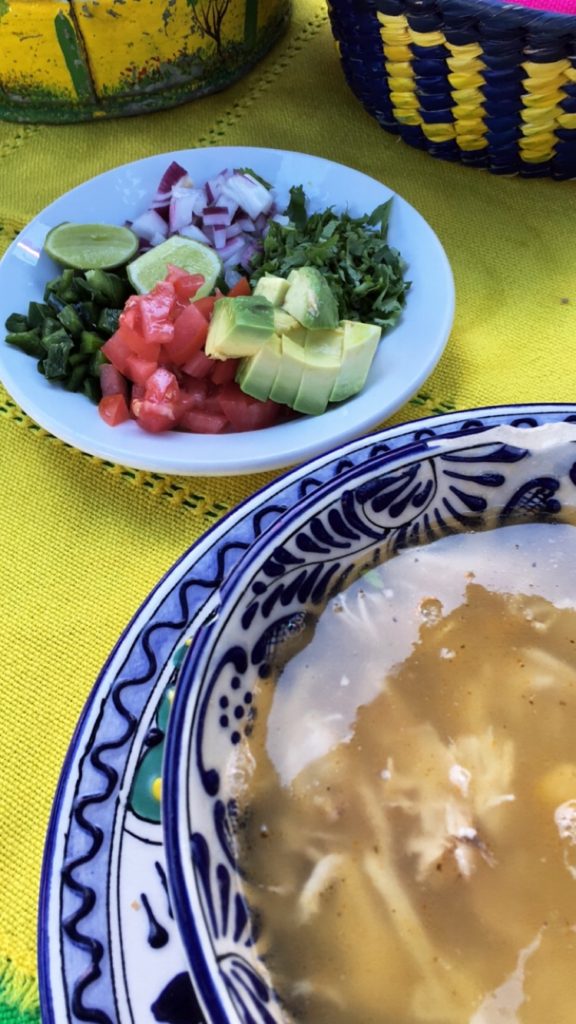 I'm bummed we didn't get a chance to try Gardenia, I hear they have the best street tacos around. We planned to go on our last day, but I was bed (and bathroom, sorry) ridden.
We had an awesome group meal at the golf course's club house. The buffet satisfied the biggest appetites (ahem, Alex), and their a la carte menu was delish too. I stuck with my standard order of tortilla soup and a marg: the soup was creamy and spicy without dairy, and the margarita was bigger than my head. Just how I like 'em.
Dinner
Our first night out we hit up Bar Esquina, which is a tried-and-true restaurant. Pretty Americanized and touristy, with an open air concept and good food. They were awesome with my allergies, and an all around safe bet for a group.
My favourite evening was undoubtedly at Flora Farms. Wow – what a cool spot! This property is huge and stunning, and oozing ambiance. You walk along brightly tiled flooring to the main bar area, that's strung with white lights and filled with music from a live band. There's a little shop onsite which sells with fresh produce and meats, and a deli for quick bites throughout the day. We were sat at a long family-style table in the large garden area, with delicious cocktails. The farm-to-table menu was taken very literally –  throughout the night the kitchen staff would come out and trim herbs from the garden. I had the vegan ratatouille, which was stacked like lasagna and drizzled in the best cashew cheese. And be warned, their famous buttermilk fried chicken is definitely for two people. They offer cooking classes which will definitely be a part of my next trip.
Right in the thick of tourist-central, you'll find the sushi joint Nicksan. Alex and I went there for a date night, and being from Vancouver had low expectations for the soosh. We were pleasantly surprised by everything, but the truffle yellow-tail was so ef'ing good it basically melted in our mouths. The staff made the night really special, and even laughed off the fact I threw a full glass of white wine on our second course talking with my hands. Oops.
Where to drink
You absolutely must go to Acre. It's gorgeous. Really close to Flora Farms, it's an amazing property that I wish we could have checked out during the day. (Next time!) It's owned by the same people who run The Keefer Bar in Vancouver, so you know the cocktails are bananas. Our negronis arrived under a glass bell jar that was filled with the best smokey deliciousness. Also, the rescue that's run at Acre is where we got our pup from, so I'm obviously very biased. I'll give you the full scoop in an upcoming Ralfie-centric post, but if you're looking for homes for a puppy, all you need to do is pour a girl a stiff drink, hand her a floppy little pup, and make sure her boyfriend sees her come undone.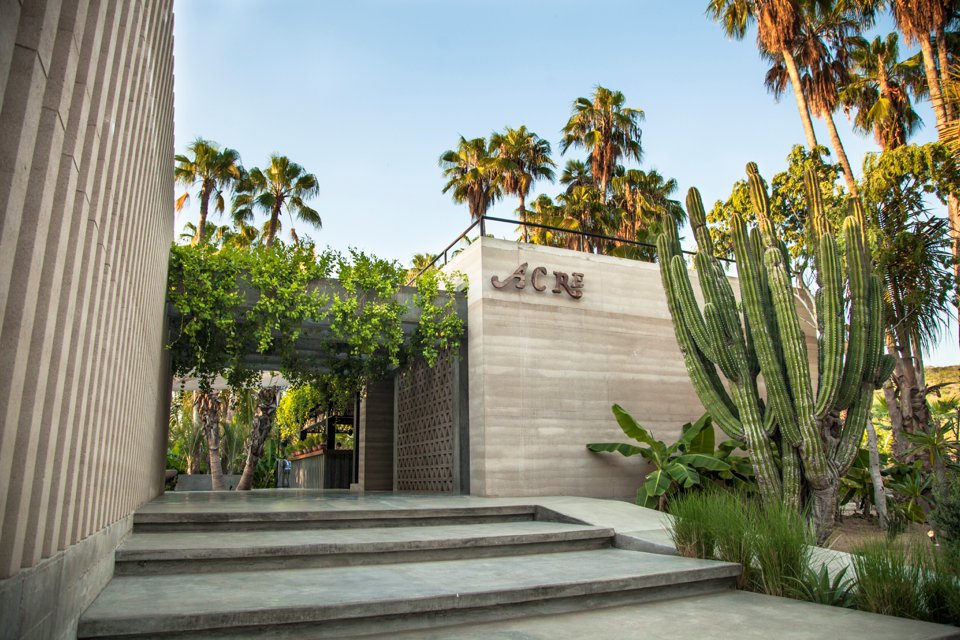 Where to party
Of course, a trip to Mexico wouldn't be complete without some spring-break-esque shenanigans, tequila shots, and the guilt-driven purchase of single roses around 2am.
Mango Deck is as close to college as we'd felt in a while. Complete with audience participation under pseudonyms, like Dave from Melville Saskatchewan's push up performance.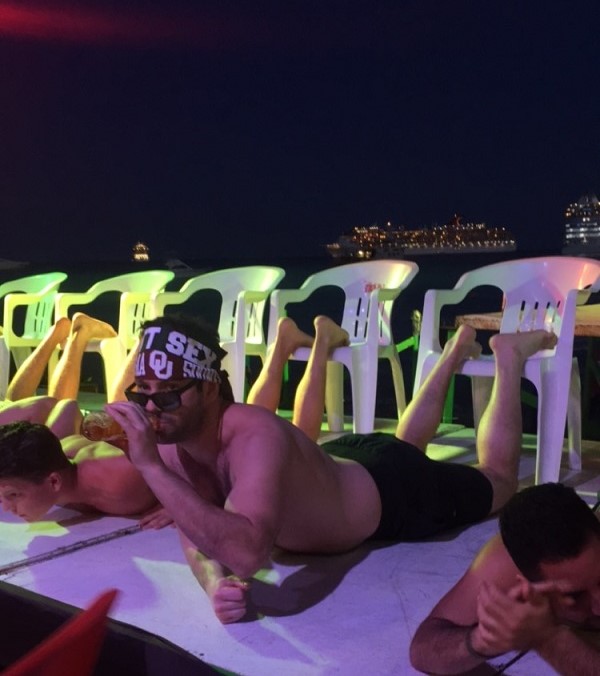 And if you go to Cabo and don't hit up El Squid Roe, did you even go to Cabo?
What to do
Walking along the boardwalk there's a lot to see, and places to pop into for eats. Lots of options to pick up pharmaceuticals too. Can't get a prescription in Canada? No sweat. Get anything over the counter.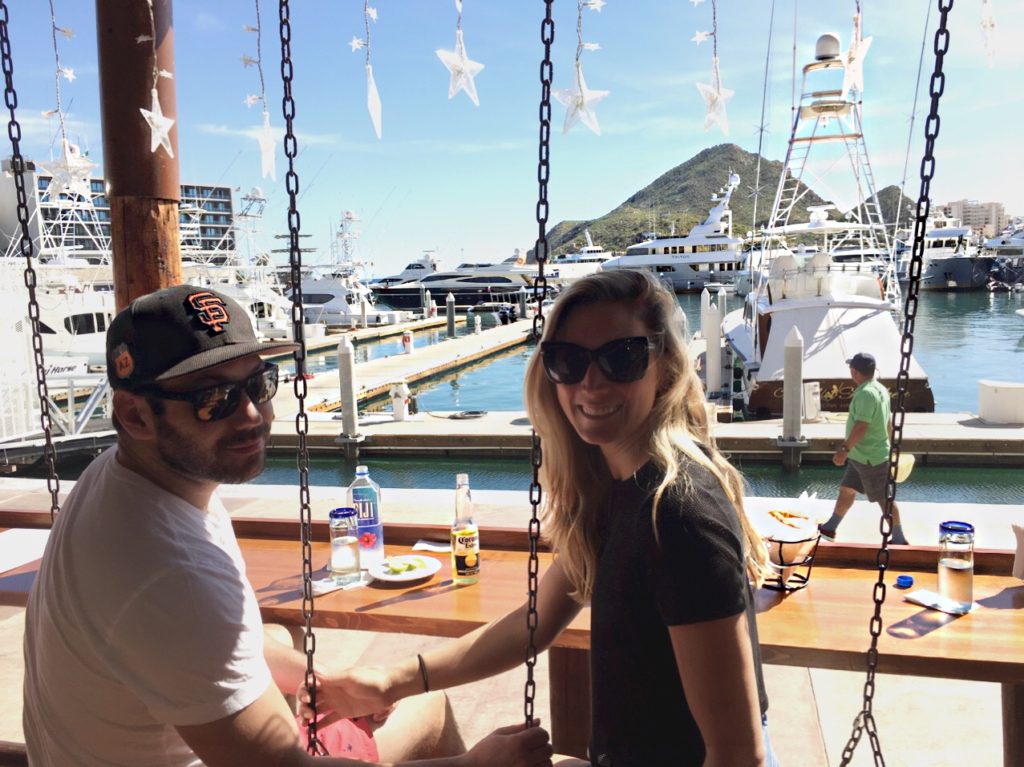 But, my highlight was when we chartered a boat for the day. The swimming was amazing, the margaritas were flowing, and the on-board chef served some incredible fresh ceviche and sashimi. I mean, how could you have a bad time?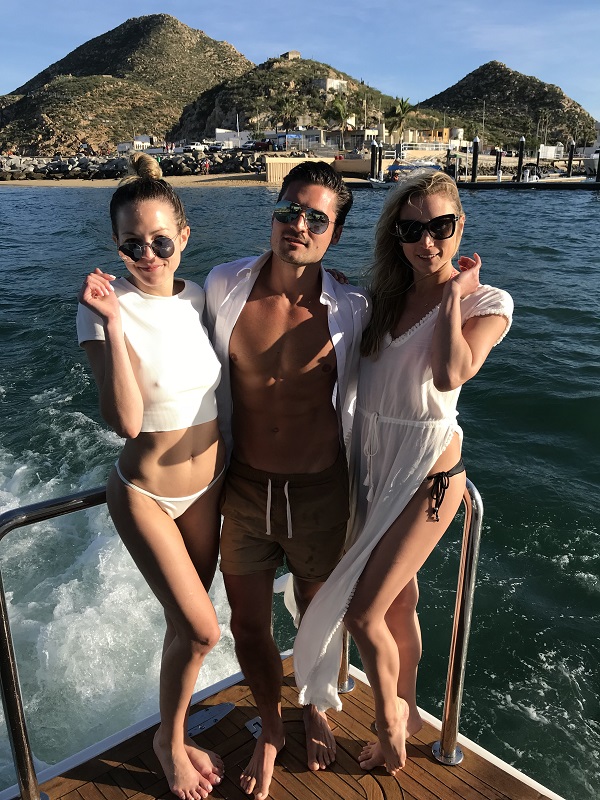 You might also like