In fair Verona… jk, Roma… the weather was as stifling hot as it was in Florence. The streets were only buzzing with tourists, because the locals knew better than to stick around in the heavy, humid heat. Alex and I spent our two day trip here in increments at a time, giving ourselves time to recalibrate in the AC every few hours. On one pop back into our hotel to cool off, I removed my bra and it was completely drenched through with the exception of where my nipples were. Who knew you didn't have sweat glands on your nips?
Luckily, Rome's restaurants are open quite late, so we spent most of our time wandering around in the evening when it dropped down to a chilly 32 degrees celsius. I highly recommend grabbing a mini bottle of wine or a chilled beer and getting lost in the ancient side streets. Rome is an outrageously beautiful city — and you can feel the history in your bones.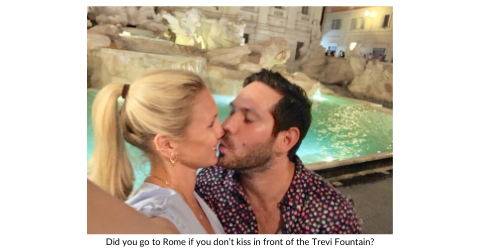 We were told about a restaurant that was an absolute must just outside of the Piazza Navona, but when we arrived their credit card machine was down and the wait-time was outrageous. We ended up wandering to what appeared to be a tourist trap, but wound up being one of our favourite meals. The owner was so relaxed, the wine was flowing, and my tuna and pistachio pasta was out of this world. Alex clearly agreed…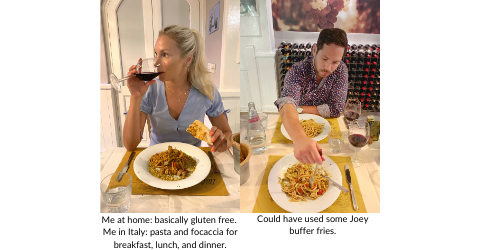 We were told that the best way to see Rome was via Vespa, so we booked in with Scooteroma. Al was apprehensive about riding tandem for four hours in the heat, but he warmed up to Jacob in no time. Ha! The tour did not disappoint. Our guides were amazing and so tuned into our interests that they peppered the regular tour with design and architecture facts for Alex and anthropology for me. Because the locals weren't in town, we were able to see everything in four hours and zip through the streets without any delays. I can't recommend this private tour enough — Rome is such a vibrant and ever-evolving place that you need a guide to really soak it all in.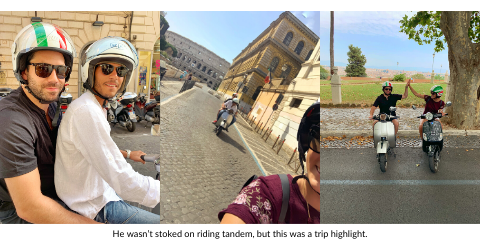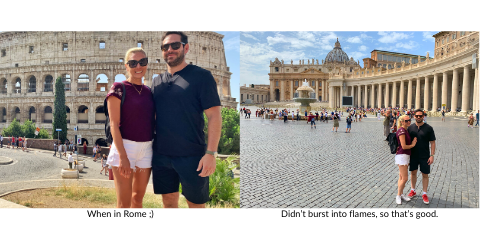 We toured all morning, and were starving by noon, so popped into a hole-in-the-wall restaurant. I'll leave this lunch explanation to Alex's face — once he folded his 'zza in half like a calzone he was fine. Not surprisingly, I ordered the vongole which was delicious.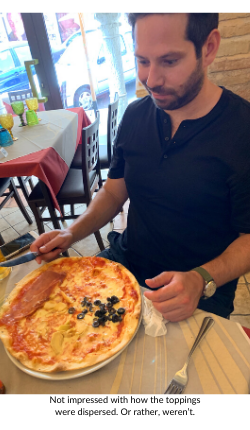 We stayed near the Spanish Steps, which is a quick walk to the Piazza del Popolo. This is an iconic spot for people watching from Dal Bolognese. Unfortunately for us, the owners were on vacation so we weren't able to eat here, but because of it found this gem of a spot called La Buca di Ripetta. It's been around since before WWII and had the most incredible staff.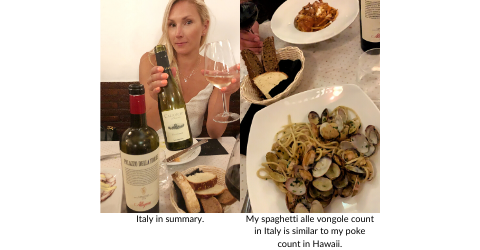 Rome was too quick. You could spend a lifetime there and still not uncover all of its beauty. We'll definitely be going back.
You might also like