Dearest Ex-Boyfriends,
It's odd to loop the lot of you very different guys together. If, by freak coincidence, I ended up in a room with all of you I'd probably keel over in a state of equal parts shock, embarrassment and nostalgia. So, let's hope this never happens.
However, with Father's Day approaching, and my dad's birthday being yesterday, I've been reflecting. I think it's time I explain something that I've realized through my time with each of you.
You've heard of "daddy issues?" The case where a little girl has a weak or absent father figure in her childhood, so spends her adult life running around searching for male validation?
Yeah, well, however you define it, I have the opposite.
You see, my dad's always loved me. Not in the spoiled-princess-who-gets-her-own-way type love, although that was occasionally the case.
But he truly loved me. It was easy to see, and more importantly feel.
When I spoke he stopped and engaged – I felt interesting.
When I had a challenge he offered advice – I felt my problems were worthy of his time.
When I was crying he'd let me unravel on his big shoulders – I felt my feelings were valid.
When I wanted to quit he pushed me firmly along – I felt driven.
When I doubted myself and felt hopeless he reminded me of why I began – I felt inspired.
When I felt inferior or defeated he reminded me of the power in my uniqueness – I felt unstoppable.
When I was hungry he provided every meal – I felt secure.
When the dark got scary at night he'd turn on the hallway light – I felt safe.
When a school friend hurt my feelings he listened – I felt understood.
When my interests were different than his he watched patiently and proudly as I flourished – I felt respected.
When I joked he laughed, when I was sick he was strong, when I was hurt he cried – I felt supported.
When I was wrong or belligerent he reasoned with me and explained – I felt guided.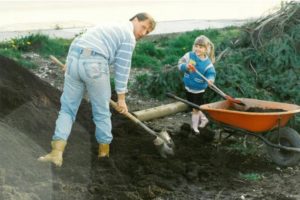 When I was around six, things were hectic: a marriage, three kids, a business, illness in his kids, and every other (very valid) excuse in the book. My dad took me for a father/daughter date that I still remember vividly. I can tell you the denim-on-denim outfit I wore, with the little ditsy print behind the buttons. I could still find the exact booth we sat in at local Red Robin. I can remember that my dad wasn't quite finished signing my card by the time I returned from the washroom. And I still own the gold ring he gave me, which I wore proudly for years to come.
He always made the time not the excuse.
The biggest gift he gave me was how he loved (and still loves) my mom. Ritualistic coffees in bed each morning. Giving her space with her friends or sisters. Nurturing new mutual hobbies into middle-age as their common interests of youth start to fade. The list goes on, the evolution continues, the love switches slightly away from passion to compassion each day, yet deeper.
So, ex-boyfriends, what I'm saying to you is this: I know how a woman deserves to be treated. I know how hard relationships are, but with work the good can (and will) out weigh the bad. I know perseverance, patience, and carving out time for one another are necessary for any type of love and stability.
Above all, I learned from my dad that a strong male influence makes a girl feel interesting, worthy, supported, inspired, and safe.
There were times I simply couldn't compute that you didn't have the same experience, so I would chase, or push, or be so frustrated I'd lose my temper – because to me, that's just what a man is.
I won't blame my father on failed relationships of my past. There was a lot of other factors at play – and I was as much the issue as all of you as I learned and grew, too.
But, I will thank my father for my failed relationships of the past. For I will never settle for less.
Thanks for all the lessons, boys.
xx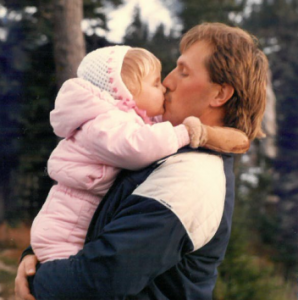 You might also like