Do you have that one friend you'll go to for recommendations on anything? A girl who's such a great consumer you know she can tell you the best value for the best quality, and the reasons to back it with comparative info? Someone you ask about hotels, beauty products, dog accessories, and everything in between? For me, that friend is Ania.
Naturally, when I decided to take the hairless-plunge, I turned to Ania for where I should go for laser hair removal. Her answer: SKN Holistic Rejuvenation Clinic in Yaletown, which is owned and operated by the stunning and conscientious, Amanda Beisel.
Don't let the word "clinic" conjure up images of sterile walls, or sticking your feet in unpleasant stirrups while your bikini line is seen to. Walking through the doors at SKN feels like coming home. If your home is spotless, tranquil, and smells like eucalyptus and lavender. Ok, so not like my home at all. The word clinic is key though – their expertise is unparalleled by any spa I've been to, and includes holistic beauty work from registered acupuncturists.
Services
I started getting the laser hair removal a few years ago, and was fairly apprehensive after hearing what a painful treatment it could be. At SKN, it's simply not. They use the Forever Bare BBL system which doesn't zap a million volts into one, stationary spot but instead moves slightly for an even, less painful removal. I'll admit, I still need to shave my pits and nether-regions, the best part is that I can shave daily and never get an ingrown hair.
Along with my hair removal, I usually pamper myself with the Acupuncture + Medi-Facial. It actually feels like I get a new face. The acupuncture tricks your body into thinking you've had something a little trauma, and sends a whack-load of healing power to your face.
I've also tried the HydraFacial MD, and let me tell you, there's nothing more satisfying than seeing the dirt and pollution they've pulled out of your pores!
Products
I'm at that age where half of my friends buy drug store skincare, and some nearly spend a mortgage payment on it. I've been somewhere in between.
Growing up, I had great skin. I don't mean this as a braggart, I was lucky enough to avoid the pimply teenage years. I figured I was in the clear, but, as soon as I hit 25 my skin became a massive struggle: irritable, dry, unpredictable. For a few years, I'd wake up not knowing what kind of mood my face would be in. There were days of tightness, random bumps and irritation, colour inconsistency. It was incredibly annoying.
I tried everything.
Amanda recommended the Forget Beauty 3 Layers of Hydration Kit, which includes a serum, moisturizer, and facial oil. Thank the Lord. You guys, I swear to Skittles that this is the softest, most nourishing regime I've ever tried. I commented to Amanda that what I found the most surprising about this set is how my hands look! Because I always rub the excess into my hands, I swear they've lost five years.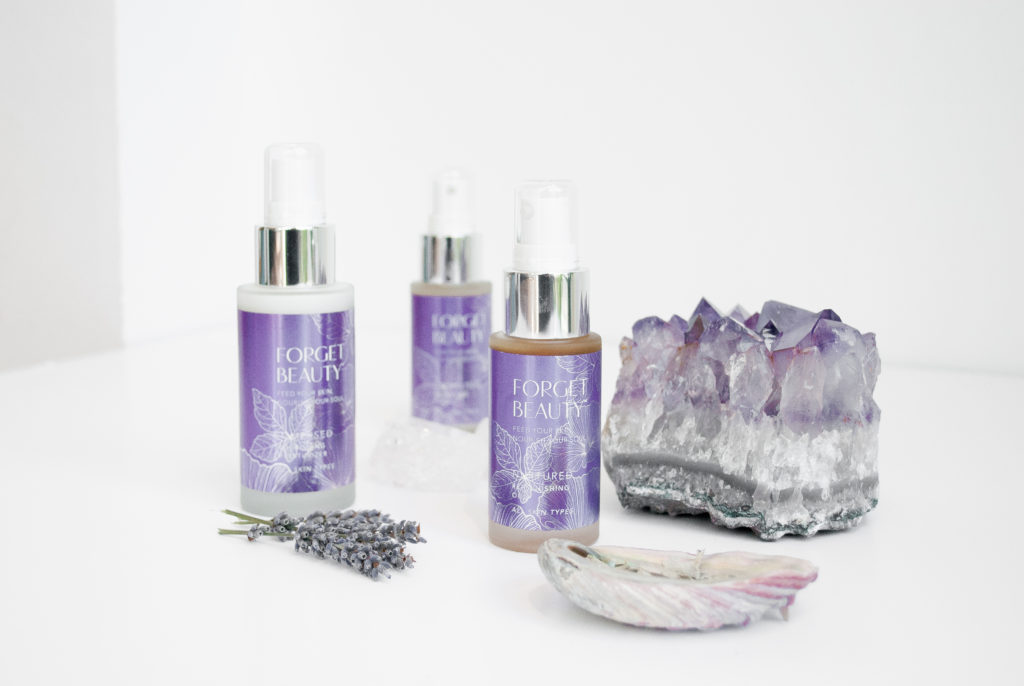 Amanda Beisel, Founder of SKN Holistic Rejuvenation Clinic
I reached out to Amanda as a huge advocate of not just her products and space, but the way she makes

Who was Amanda pre-SKN?
I was on a search to find my place in the world.  I didn't take school too seriously and was more there to socialize… I had a bit of a panic attack after realizing life was about to change and I did not want to be stuck living in Prince Albert, Saskatchewan my whole life. I did the unthinkable and started studying. I graduated with a BA in psych and headed to Calgary to do my first grown up job at family services. It wasn't too long until I realized that wasn't my jam… I returned to Canada and decided to study Chinese Medicine. Fast forward four years and I took the biggest leap of all and opened Vancouver's first Holistic Skin Clinic.
Why did you start SKN? 
I recognized something was missing in the skincare industry and decided to fill that niche.   There were doctors providing laser treatments and injectables, and spas providing relaxing facials but there was nowhere to go and have holistic based treatments that provided real long term results. I wanted to create a place where once could come to improve their skin health as a whole.
SKN is so much more than an aesthetics spa – what makes you so unique?
Sometimes I forget that we even offer skincare when I am with my clients because I just want to talk about who they are, what they do, what they desire. The SKN team cares about the people, the connection, and we recognize the vulnerability that comes with sharing your skin concerns. We live in a society that leads to incessant self judgement and judgement of others. SKN is a place that will remind you that you are beautiful. We are not going to tell you to fix this or that, we are here to listen to you and be your guide.
How do you choose the other brands you bring in?  
I am a bit of a research junkie and this world is filled with so many amazing products and people doing great things. I don't carry products because they are popular, I chose based on formulations. Osmosis was the first skincare line we carried and was a big inspiration behind the creation of Forget Beauty. Forget Beauty is not only the name of our skincare line but a platform where we share articles and other products we love that feed the soul and awaken the body.
What are you most proud of?  
I am most proud of my bad ass courage to go deep within and not settle for life as it is. It is so easy to get comfortable in our lives and stay in a state of mediocrity. I have a nice home, successful business, loving partner, and the worlds best dog; but those are external things. The inner journey is where the magic exists and is waiting to be brought forth. This is where you meet who you truly are. I began following a shamanic path in 2014 and it has transformed my life and allowed me to expand my vision and offerings. It has guided me to remove all the false masks I was wearing so I could return to who I truly am. Only from this place can we serve others authentically with an open heart.
What's one service at SKN you couldn't live without?  
Cosmetic Acupuncture is the foundation of SKN Clinic. It takes our skin treatments to another level by bringing in that energetic balancing component. It is what makes us most unique.
Most popular service? 
This changes from time to time but right now it is a three way tie between Cosmetic Acupuncture, Advanced HydraFacial, and Dermapen.
What's been your biggest challenge owning your own business? How did you (or do you constantly) conquer it?
Juggling the endless tasks that continuously arise with 11 Employees, a skincare line, 2 online stores and now the Forget Beauty online platform. Just being on top of everything and creating structure and flow each week so all tasks get completed. It can be overwhelming at times and leads me to feel paralyzed. The only way I have found to conquer it is to practice "non-doing". When I feel overwhelmed I have to do absolutely nothing. This helps me to reset and so I can come back to the tasks and create a plan of action from a centered and grounded place.
On a personal note, what's your biggest area-for-improvement, and how do you manage that?
I am a big picture person and don't like the little details of things.  The best way to manage it is to delegate it to others.  Luckily SKN has 3 clinic managers who help me keep things going by handling those fine details.   
Where's your favourite travel spot? For fun? For relaxation?
I love Central and South America and have been to Peru, Ecuador, Guatemala and Costa Rica and they all are very special to me.  My idea of fun and relaxation is heading on a retreat to regenerate my mind, body and soul.  I take off 2-3 times a year to do this.  On the other side of the spectrum I like to take nice 4 day getaways to California for great food and Bubbles.
How do you balance work and life?
I have actually 95% retired from being an acupuncturist and now work on business development, writing, and managing Forget Beauty projects. This has allowed me to work from home so I can create and structure my days according to my personal needs and the business needs. One thing that keeps me balanced is my morning ritual each day in my "soul" room.  This is where all my treasures are kept;  crystals, candles, tarot, shamanic stuff. I start each day with a gratitude prayer, kundalini/hatha yoga, meditation, and pranayama.
When you're stressed, what do you do to reset?
I lock myself in my soul room and go inward to connect to my higher guidance. I also have a pretty amazing list of spiritual folks who do astrology, intuitive readings, pipe readings, and mayan life readings.
Device or program you couldn't live without?
I could not live without my laptop.  It is my reminder that I do have a business and keeps me organized and connected, because otherwise I would just run off to the jungle.
 ***
Check out everything that SKN has to offer.
You might also like